Debiutancki album.... KRYZYSU!!!
2010-05-17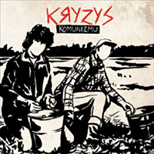 Wydawnictwo Songood House będzie wydawcą płyty legendy polskiej sceny niezależnej, zespołu Kryzys. Krążek zatytułowany "Kryzys komunizmu" pojawi się w sklepach 25 maja 2010.

Jakkolwek nieprawdopodobnie by to brzmiało jest to płytowy debiut zespołu, który dotychczas doczekał się jedynie składankowo-koncertowych wydawnictw, z których najbardziej znane to winylowy album pt. "Kryzys" ze zbiorem dość przypadkowych nagrań, wydany we Francji na poczatku lat 80-tych ub. wieku oraz kasetowe wydawnictwo z nagraniami demo sygnowane nazwą studia Złota Skała.
Fani zespołu mieli okazję poznać dokonania zespołu także za sprawą dwóch części składanki "Tribute To Kryzys" wydanej przez firmę w W Moich Oczach...

Kryzys reaktywowany kilka lat temu wznowił działalnośc koncertową, aby w finale zawitać do studia Songood House gdzie zarejestrował 13, w większości swoich doskonale znanych przebojów choć trafić można między nimi również na takie, które nie były dotychczas publikowane.
W zapowiedzi albumu czytamy, że "wszystkie utwory powstały na przełomie lat 70/80-tych i w pełni oddają atmosferę tamtych czasów (...) Stare dobre kawałki o różnej stylistyce ubrane zostały w nową i świeżą szatę" co wydaje się być niezłą rekomendacją dla tego albumu bo największym mankamentem wszytskich znanych dotychczas nagrań grupy wydaje się poziom ich studyjnej realizacji...

Mimo czterech zmian składów w latach 1979-81, trzonem grupy pozostali: Robert Brylewski (lider m.in. Brygady Kryzys, Izraela, Armii czy Falarek Band) i Maciej Magura Góralski (perkusista m.in. grup Bakszysz, Rastarr i założyciel 2nd Hand Beatnix). Najnowszy skład "Kryzysu" uzupełnili Martyna Załoga (bas, vocal) oraz Andrzej Kasprzyk znany jako LAL (gitara, instrumenty klawiszowe), a także saksofoniści Alek Korecki i Grzegorz Rytka.

Premiera albumu 25 maja... Zapraszamy do naszego sklepu gdzie już można zamawiać krążek..

Zamów ---> KRYZYS "Kryzys komunizmu"