DROPKICK MURPHYS na nowej płycie.
2005-06-20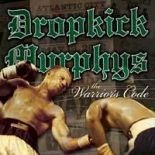 13 premierowych utworów przynosi nowy album gigantów amerykańskiego punka DROPKICK MURPHYS. Krążek o tytule "The Warrior's Code" jest dedykowany legendzoe amerykańskiego boksu z Massachusetts MICKY WARD'owi.
Ostatni album Dropkick Murphys "Blackout" wydany został w 2003 roku jednak grupa nie zasypywała gruszek w popiele bowiem w miedzyczasie pojawił się krążek "On The Road With The Dropkick Murphys" zawierający kolekcję 38 nagrań grupy i materiał video, EP-ka "tessie" z 5 utworami oraz zbiór singli "The Singles Collection - Vol. 2".
Premiera nowej płyty w Stanach i Europie 20 i 21 czerwca 2005.