DEZERTER + THE ANALOGS
2007-03-07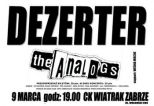 9 marca 2007 DEZERTER i THE ANALOGS zagrają wspólny koncert w Zabrzu, w CK Wiatrak, przy ul Wolności 395.
Impreza startuje o godzinie 19:00. Bilety w przedsprzedaży kosztują 20 zł, a w dniu koncertu 25 zł.
Szykuje sie wielkie święto muzyki PUNK.
Dwa zespoły, dwa pokolenia... a wraz z nimi młoda siła, choć na razie w roli supportu: Wiśnia Mocne.
DEZERTER jest chyba najważniejszym i najbardziej twórczym zespołem polskiego punk rocka. W ostatnich latach zespół prowadził intensywną działalność koncertową m.in. trasa Holiday in the Snow Tour wraz z Apatią i Post Regimentem, koncerty z zespołami Conflict i Subhumans podczas trasy w Anglii (2002), występ z Dead Kennedys i Chumbawambą (2002, Kraków), festiwal PRL (punk rock later) (2003) - częsta współpraca z Kasią Nosowską. W 2004 r. wydana została ostatnia jak dotychczas płyta zespołu "Nielegalny zabójca czasu".
W 2006 roku wydali płytę "Punk not Jazz"
Dezerter to legenda punkrocka, nic dziwnego więc, że projekt płyty z ich coverami stał się ruchem niemal masowym, który pogodził wielu wykonawców zazwyczaj wspólnie nie występujących. Na Dezerterze wychował się wszak cały polski underground.
Wszystkich tych wykonawców łączy jedno - wspólny punkowy życiorys. W marcu ukazała się dwupłytowa składanka w hołdzie zespołowi Dezerter, opatrzona tytułem "Nie ma zagrożenia, jest Dezerter".
Na składankę trafiło 50 utworów z repertuaru Dezertera.
Na pierwszym krążku znalazły się takie formacje, jak m.in. Analogs, Farben Lehre, Eye For An Eye, Schizma, Włochaty, Apatia, Uliczny Opryszek i WC.
Płyta opatrzona została szyldem "czady".
Obecnie zespół występuje w składzie: R. Matera, K. Grabowski, Jacek Chrzanowski.
THE ANALOGS to najlepsza, najbardziej aktywna i najbardziej znana w kraju i za granicą formacja od początku hołdująca staremu, ulicznemu punk rockowi. W ciągu 12 lat istnienia zespół, mimo zmian składu, okrzepł muzycznie, a jego popularność zatacza coraz szersze kręgi. 9 wydanych dotychczas albumów za każdym razem potwierdzało klasę grupy, której występy nieprzerwanie ściągają do klubów rzesze wiernych fanów. Niemal nieobecni w krajowych rozgłośniach radiowych i telewizji, doskonale znani są publiczności undergroundowej w Polsce, a także w Niemczech, Włoszech, Austrii, Szwajcarii, Czechach i innych krajach, gdzie często koncertują.
Ostatnia plyta nosi tytul "Poza Prawem" i wyszla jesienia zeszlego roku.
9 marca, piątek, godz: 19.00
DEZERTER + ANALOGS
support: Wiśnia Mocne
Przedsprzedaż: 20 zł ( sklepy muzyczne i wiatrak)
W dniu koncertu : 25 zł
Wejście do klubu od 18.00
CK Wiatrak Zabrze, Wolności 395
info, dojazd, rezerwacje:www.ckwiatrak.prv.pl
GG: 1652006