DEVILISH PRESLEY + THE KOLT + OBIBOX
2006-11-30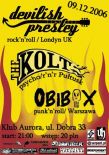 Devilish Presley, The Kolt i Obibox czyli kolejny Crazy Rockin' w Aurorze 09.12.2006.
Zapraszamy na kolejne wydanie Crazy Rockin Night do warszawskiej Aurory.
Koncert otworzą Obiboxi – warszawskie punk'a'billowe trio z ognistym kontrabasem. Na scenie z przerwami od niemal trzech lat. W lecie zespół nagrał demówkę, której próbki można znaleźć na www.myspace.com/obibox.
Po nich pułtuski The Kolt – tych muzyków nie trzeba przedstawiać fanom rodzimego psychobilly. Mamy tu byłych członków Robotixa, Komet i Skarpety. Muzyka The Kolt to agresywny rock'n'roll, któremu tak samo blisko do punk rocka jak i do dzikiego psychobilly. Rok temu w sklepach pojawił się ich debiutancki krążek "Neony Kina Narew". Zawsze ciepło przyjmowani i owacyjnie żegnani, potrafią rozgrzać publiczność do czerwoności. W Internecie znaleźć ich można pod adresem: www.thekolt.com.
Jeśli ktoś ich jeszcze nie widział na żywo, powinien skorzystać z okazji i zjawić się na sobotnim koncercie, tym bardziej, że to jeszcze nie koniec. Zaraz potem wystąpią goście z Londynu – Devilish Presley (www.devilishpresley.com)
Devilish Presley to powstały w 2002 roku duet Australijki Jacqui Vixen (bas i wokal) i urodzonego w Londynie Johnny'ego Navarro (gitara i wokal). Muzykę zespołu trudno jednoznacznie zaszufladkować. Brzmi trochę jak Ramones, trochę jak T-rex a na pewno jak czysty Rock'n'Roll. Grupa zagrała jak dotąd ponad 200 koncertów zarówno w Wielkiej Brytanii, jak i na Kontynencie, dzieląc scenę ze znanymi wszystkim zespołami, takimi jak The Damned, The Meteors, 999, Jayne Country czy Electric Chairs, Horrorpops, 5,6,7,8's, Misfits, Markey Ramone i wieloma innymi. Na początku 2006 wydali swój (godny polecenia) trzeci album "Memphisto" i są w trakcie nagrywania nowego singla "Halloween Queen".
Zarówno Jacqui jak i Johnny wiele słyszeli o Polsce, jej historii, gościnności oraz świetnej publiczności i już nie mogą się doczekać przyjazdu, miasta, występu, spotkania z przyjaciółmi, fanami rockandrolla i wspólnej zabawy.
Po koncercie muzykę serwować będzie DJ Crazy Senorita (Nasty Habits) oraz DJ Nerve (Miguel and The Living Dead).
Sobota 09.12.2006
Klub Aurora, ul. Dobra 33, Warszawa – Powiśle.
- Obibox (punk'n'roll, Warszawa)
- The Kolt (psychobilly, Pułtusk)
- Devilish Presley (rock'n'roll, Londyn)
- DJe: Crazy Senorita I Nerve 69
Start: 21:00
Wstęp: 20 pln
Linki do zespołów:
www.myspace.com/obibox
www.thekolt.com
www.myspace.com/thekolt
www.devilishpresley.com
www.myspace.com/devilish_presley
more info: CrazySenorita@gmx.net