Crazy Rockin' Night
2005-09-16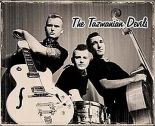 22.10.2005 w warszawskim Klubie Aurora odbędzie się kolejna impreza z cyklu "Crazy Rockin' Night". Tym razem gwiazdą wieczoru będzie TAZMANIAN DEVILS - młody zespół psychobilly z Niemiec.
Trio powstało w 2002 roku a od 2003 wystepuje w składzie:
David - wokal i kontrabas
Salmi - gitara
Laura - perkusja.
Ich muzyka to świetnie wyważona kombinacja rockabilly z szaleństwem i czarem horroru. Brzmi bardzo blisko korzeni, początków psychobilly.
To po prostu jest autentyczne Psychobilly! Tasmańskie Diabły to jedna z tych grup, które wyśmienicie wypadają na żywo i naprawdę potrafią rozruszać publiczność. Polskim fanom stylu kilka ich utworów może być znaneych ze składanek "Graveyard Hop Vol. 1" oraz "Zombies from Mars... want to eat your dead body".
Podczas warszawskiego koncertu można będzie nabyć ich debiutancki, wydany własnym sumptem album "Evil Boppin" (Razmazat Rec). Nic dodać, nic ująć - żaden z fanów psychobilly czy dobrego rockandrolla
nie powinien przegapić tego wydarzenia!
Występ Tazmanian Devils suportować będa dwie warszawskie kapele: DUMBS, czyli najlepszy Ramones coverband w Europie oraz OBIBOX - warszawski band punkabilly z ognistym rockandrollowym kontrabasem.
22.10.2005 - Klub Aurora - ul. Dobra 33 - Warszawa
Start ca 20-21:00.
Strony zespolow; ---> TAZMANIAN DEVILS
---> DUMBS
---> OBIBOX

More info: Ewa CrazySenorita@gmx.net