Co nowego w planach People Like You?
2009-02-10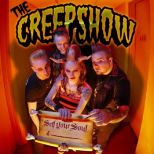 Po premierze nowego, doskonałego albumu grupy 2nd DISTRICT "Poverty Makes Angry", wzbogaconego krażkiem DVD albumu DEEP EYNDE "Blackout - The Dark Years" oraz digipakowych wznowień krązków THE BONES wytwórnia People Like You zapowiada kolejne muzyczne smakołyki.

Psycho-rock'n'rollowa, kanadyjska grupa THE CREEPSHOW jest już znana europejskim fanom z serii koncertów i wydanego stosunkowo niedawno, nowego albumu "Run For Your Life" ale to nie wszystko co wytwórnia PLY ma do zaproponowania jeśli chodzi o tą formację... bowiem już 23 marca 2009 światło dzienne ujrzy specjalne wznowienie wcześniejszego krążka "Sell Your Soul" niedostępnego wcześniej w Europie.
Zarówno wersja CD płyty jak i limitowany LP na kolorowym winylu zostaną wzbogacone o bonus DVD.
Słuchając płyty fani będą mogli porównać wokalne możliwości Hellcat, którą na nowszym albumie grupy zastąpiła jej siostra Sarah Sin.

Także 23 marca będzie miała miejsce premiera nowego albumu kultowej formacji THE METEORS, która - jesli ktos śledzi jej poczynania lub zapoznał się z wywiadem z P.Paul Penech'em zamieszczonym w ostatnim numerze GARAŻU to wie, że... - jest jedyną prawdziwą formacją psychobilly na świecie.... Niedowiarków przekonywać nie zamierzamy, a fanów nie trzeba.... i z pewnościa nie pozwolą oni sobie na zignorowanie nowego albumu ulubieńców. Płyta CD o tytule "Hell Train Rollin" wydana zostanie w wersji Digipak, natomiast jej winylowy odpowiednik będzie wydany na kolorowym winylu z trzema różnymi wersjami okładki... No to będzie trochę rozterek... :-)

Niecały miesiąc później - 14 kwietnia fani będzą mieli okazję sięgnąć po nowy album niezbyt radykalnie odległej stylistycznie formacji THE GRIT zatytułowany "Straight Out The Alley", który wydany zostanie w wersji CD oraz limitowanej wersji z bonusem i na kolorowym winylu..... a także po oficjalne DVD formacji DEADLINE zawierające koncert zarejestrowany w niemieckim Chemnitz zatytułowane "Live And Loud In Germany".

Wszytskie pozycje oczywisćie dostepne będą w naszym sklepie... a informacje o kolejnych nowościach z People Like You już wkrótce.