Cenobites i Gecko Brothers na nowych płytach.
2005-09-23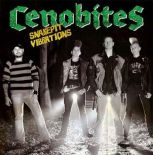 W październiku belgijska firma Drunkabilly Records specjalizująca sie w klimatach rock'n'rollowych, psycho, rockabilly i surf wyda dwie naprawde mocne premiery dla zwolenników ostrego, niemal punkowego psycho.
Nowe albumy znanych z łamów Garażu, wściekłych CENOBITES ("Snakepit Vibrations") i nie mniej doskonałych GECKO BROTHERS ("Demolition Of The Rehabilitation") juz wkrótce w formacie CD pojawią się także w naszym sklepie.
Obie płyty wytwórnia wyda również na specjalnym. limitowanym picture disc LP. W przypadku Cenobites LP będzie zawierał jeden dodatkowy numer. Promocję krążków mają zapewnić spore trasy koncertopwe obu kapel w Anglii, Holandii, Austriui, Niemczech, Francji i Belgii.