Captain Oi! w akcji... Nowy album Cock Sparrer!!!
2007-09-27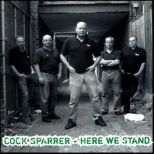 Po wydanych w bieżącym roku, wielu redycjach (w wersjach digi pack) klultowych albumów muzyki punk (m.in. Eddie & The Hot Rods, Toy Dolls, Business,U,K, Subs, Discharge...) w ostatnim czasie firma Captain Oi! dołożyła do zestawu nowych tytułów wznowienie krążka The Dickies "Dawn Of The Dickies" oraz The Lurkers "FulHam Fallout", a już teraz wytównia ta zapowiada kolejne muzyczne smakołyki, m.in. kolejny zestaw nagrań The Dickies "Ijdit Savant/Dogs From The Hare That Bit Us" oraz Last Resort "Skinhead Anthems - A Way Of Life", które dostępne będą już w październiku.
Jednak zapewne nic tak nie zelektryzuje fanów uliczniego punk rocka jak informacja o nowym albumie brytyjskiej legendy COCK SPARRER zapowiadanego na 3 listopada. Nowy materiał zatytułowany "Here We Stand" zapowiadać będzie singiel winylowy, a całość pojawi sie na CD, LP i w wersji picture-disc.
Z tej okazji grupa pojawi się na jedynym w tym roku koncercie, który odbędzie się w dniu premiery nowego albumu w Wolverhampton Civic Hall, a na scenie Cock Sparrer wspierany będzie przez Slaughter & The Dogs, U.K. Subs, Deadline, Goldblade i Demob. Bilety w cenie 25 funtów.
Szczegóły na plakacie obok, info o biletach:
www.wolvescivic.co.uk
www.seetickets.com
www.gigbox.co.uk
Wydanie "Here We Stand" na winylu to ani przypadek, ani kaprys wydawcy. Captain Oi! przymierza się do wydania serii winylowych albumów w wersjach limitowancyh picture disc. Na pierwszy ogień w listopadzie br. pojdą krażki:
The Exploited - "Punk's Not Dead"
Last Resort - "Skinhead Anthems - A Way Of Life"
U.K. Subs - Another Kind Of Blues"
Angelic Ustarts - "Teenage Warning"
W grudniu dołącza do nich:
Various Oi! - Oi! The Album
Various Oi! - Strenght Thru Oi!
Dla zwolenników czarnego plastiku nadchodzą lepsze czasy !!!