CRIMINAL TANGO + GAGARIN BROTHERS
2011-03-15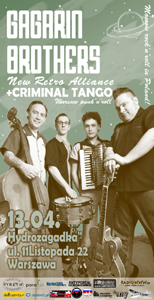 Warszawa, klub "Hydrozagadka" (ul. 11 Listopada 22)
13.04. środa
koncert:
GAGARIN BROTHERS
support: CRIMINAL TANGO
start 19.30
wst. 15 zł
GAGARIN BROTHERS
Pierwsza podróż człowieka w kosmos zrobiła kolosalne wrażenie na młodych ludziach z całego świata, obserwowali z bliska przejście w nową epokę. Oczywiście nowe czasy potrzebowały nowych bardów, nowej muzyki, nowych piosenek. Okrzyk Jurij Gagarina "Poyekhali" (No to zaczynamy !) dało inspirację nowej generacji muzyków którzy złapali za gitary… Moskiewska grupa Gagarin Brothers klasyfikuje swoją muzykę jako przymierze "neo z retro". Taneczna muzyka z czasów pierwszych lotów kosmicznych, energetyczny koktajl stworzony ze zmieszania ze sobą amerykańskiej muzyki z tamtych czasów (latino, rockabilly , gypsy jazz, twist, polka, humppa …) i miejskich hitów popularnych w byłych republikach sowieckich. Obecnie są w trakcie swojej drugiej trasy po Europie. Podczas niej odwiedzą takie kraje jak: Polska, Niemcy, Białoruś, Belgia i Litwa.
Zespół wystąpi w składzie:
Pavel "Pаul" Stepin (-ex Mister Twister,Crazy Men Сrazy, Smokin Boolldozers ) - vocal, gitara
Dmitry "D-Jazz" Ilyin (-ex The Meantraitors,The Rattlesnakes) - kontrabas elektryczny
Vladimir "Boba" Kondrashov - akordeon
Sergei "Jungle" Аrnаutov - perkusja
http://youtube.com/user/gagarinbros
www.myspace.com/gagarinbrothers
www.gagarinbrothers.ru

pozostałe koncerty w Polsce:
1.04. Wrocław
11.04. Poznań
12.04. Kraków
13.04. Warszawa
CRIMINAL TANGO
"Potrafimy dać sobie radę z bikiniarzami i bumelantami - zrobimy z nich pośmiewisko dla całej młodzieży pracującej!" - tak w latach '50 wypowiadano się na temat młodzieży niezbyt sympatyzującej z ówczesną władzą.... A tymczasem, pół wieku później, jesienią 2010 roku powstaje w Warszawie zespół Criminal Tango. Swoją muzyką nawiązują do korzeni rock'n rolla wypełnionego punkową duszą, a wszystko to przesiąknięte jest prawdziwą warszawską kulturą...
Skład:
Spil - wokal/gitara
Patrynio - bas/wokal
Misiek - gitara
Janek - trąbka
Koval - perkusja
http://pl-pl.facebook.com/pages/Criminal-Tango/175617319146949