CRAZY ROCKIN NIGHT: NOWY ŚWIAT + PAVULON TWIST + DEATH VALLEY SURFERS
2006-09-03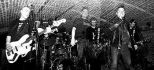 W sobotę 23.09. zapraszamy na kolejną rockandrollową imprezę do warszawskiej Aurory. Crazy Crazy Rockin Night! Czy komuś coś to mówi?
Koncert rozpocznie się występem warszawskiej grupy NOWY ŚWIAT. Zespół powstał w 1997 roku aby wystąpić na jednym festiwalu. Grali i grają dobrego punkrocka' 77 w czystej postaci. Ich teksty opowiadają o relacjach damsko-męskich i Warszawie, a szczególnie o Żoliborzu – dzielnicy z której pochodzą. Ostatniej wiosny doczekaliśmy się ich premierowego albumu "Nowy Świat" wydanego przez Jimmy Jazz Records.
Po nich PAVULON TWIST – kapela, która mimo zawirowań i przerw w działalności zdążyła już podbić serca publiczności, szczególnie tej gustującej w muzyce rockabilly i surf ale nie tylko. Fanów, posiadaczy singla "Real Cool Cat" i składanek z Pavulon Twist, a także tych, którzy zobaczą ich na najbliższym koncercie z pewnością ucieszy informacja, że chłopcy kończą nagrywanie długo oczekiwanej płyty długogrającej.
Czterech świetnych muzyków naprawdę wie jak rozkręcić dobrą imprezę. Mocny wokal, dwie rockandrollowe gitary, "zły dotyk" basisty i nieobliczalny perkusista. Brzmią jak znane rockandrollowe hity ale mocniej, z olbrzymią dawką własnych pomysłów i energii. Trzeba to zobaczyć, żeby poczuć … i zapomnieć o reszcie świata.
To jeszcze nie koniec szaleństwa! Gwiazdą wieczoru będzie bowiem DEATH VALLEY SURFERS! Grupa przylatuje z Londynu, a w Warszawie gościła już dwukrotnie. Ci, którzy ich widzieli z pewnością pamiętają jak ten zespół potrafi porwać publiczność! Rock'n'roll z sekcją dętą, domieszką punkrocka i olbrzymią porcją humoru. Do tego charyzma lidera – Russa Surfera. Tak samo rozpoznawalni są wszędzie gdzie występowali na świecie – za świetny kontakt z tłumem, zabawowe podejście do muzyki, przebieranki, przyklejane wąsy, czerwone nosy z cyrku, urządzane na scenie konkursy w piciu piwa czy tequili. Jakże częstym obrazkiem jest roztańczony wąż muzyków z saksofonistą na czele mieszający się z ludźmi, którzy przyszli ich zobaczyć. To jest żywioł! Rytm i melodie czuje się w kościach, sercu i żołądku!
Nic dodać, nic ująć. Zapowiada się PYSZNA ZABAWA!
Po koncercie, dla rozkręconych i wciąż przy siłach, muzykę z płyt serwować będzie DJ Pikuś - jak najbardziej w klimatach.
Zapraszamy fanów rockandrolla, punkrocka, rockabilly, psychobilly, ale nie tylko, bo na tym koncercie będzie można się w takiej muzyce zakochać!
23.09.2006 Klub Aurora
Ul. Dobra 33
Warszawa
- Nowy Świat (punk 77, Polska)
- Pavulon Twist (rock'n'roll, Polska)
- Death Valley Surfers (punk/rock'n'roll, UK)
- DJ Pikuś
Start: 21:00
Bilety: 20 pln

More info: wasza ulubiona Crazy Senorita ;-) CrazySenorita@gmx.net