COLLINA na debiutanckim albumie...
2011-11-18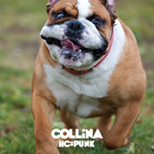 Collina to grupa zalożona w 2008 roku w Gdyni, w składzie ktorej co wnikliwsi obserwatorzy scenicznych wydarzeń odnajdą znajome twarze. Zespół od chwili powstania konsekwentnie wykonuje hardcore punk i konsekwentnie broni się przed prezentacją swojej biografii pozostawiając ten rodzaj twórczości "poprzebieranym metalowcom". Ponieważ nie łapiemy się na metalowców, ani na poprzebieranych (nie ma to jak latać bez gaci), a i zespołu też nam się nie chce wyręczać bo jesteśmy chroniczni leniwi, wstajemy po 10-tej, nie wynosimy śmieci, nie przeprowadzamy staruszek przez ulicę ani przez nic innego i generalnie wali nas wszystko... więc zainteresowanym zostawiamy śledztwo dotyczące bliższych informacji o kapeli... Tym, którym wystarczy muzyka polecamy wizytę w naszym sklepie gdzie do odsłuchania znaleźć można kilka sampli, a debiutancki album Colliny zatytułowany "HC = Punk" jest już do zamówienia.
Premiera płyty 20 listopada więc nie ma na co czekać...

Zamów ---> CD COLLINA - "HC=Punk"