CD i LP PARTIA - Żoliborz-Mokotów... Kolejna reeedycja albumu z dyskografii legendarnej Partii.
2013-11-15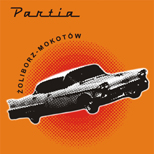 "Żoliborz-Mokotów" to tytuł trzeciego i przedostatniego albumu legendarnej Partii. Jego premiera odbyła się 7 maja 2001 a na płycie znalazły się takie przeboje grupy jak choćby "30 dni i 30 nocy", obecny na Liście przebojów Trójki przez 18 tygodni. Znajdziemy tu także nie mniej znane hity Partii jak "Oskar Hell", "Hiszpański Elvis", "Światła miasta" czy tytułowy "Żoliborz Mokotów".
Płytę ta z pewnościa uznać należy za jeden z przełomowtych albumów zarówno dla samej Partii jak i dla oblicza polskiego, szeroko pojętego rock'n'rolla.
Jimmy Jazz Records regularnie od 3 lat wznawia kolejne płyty z dyskografii Partii... Po utrzymanym w konwencji "The Best of.." albumie "Umrzeć jak James Dean", a także katalogowych pozycjach pt. "Partia" i "Dziewczyny kontra chłopcy" przyszedł czas na "Zoliborz-Mokotów". Materiał zawarty na nowej edycji płyty został zremasterowany w warszawskim studio Serakos, a okładka albumu poddana została "zabiegom upiekszającym" z zachowaniem stylistyki pierwowzoru. "Żoliborz-Mokotów" wydany został przed laty na kasecie magnetofonowej i CD zatem obecna edycja CD to wznowienie z uwzględnieniem wspomnianych zmian. Natomiast przygotowana obecnie, limitowana wersja winylowa płyty to pierwsze wydanie, które z pewnością ucieszy fanów grupy i miłośników plastiku.
Obiektem westchnień winylowych maniaków będą tym razem krążki w kolorze pomarańczowym (orange transparent). Całość winylowego nakładu płyty to 320 sztuk, w tym 110 sztuk winyli kolorowych.
Do sprzedaży trafi też 11 egzemplarzy test pressingów, które odrożniać się będa od reszty nakładu okladką w kolorze żołtym.

Premiera CD i LP na stronie Jimmy Jazz Records o północy z 15 na 16 listopada... Wtedy też zapraszamy fanów winylu do tradycyjnej "walki o numery".

Oto szczegóły numeracji winylowej edycji LP PARTIA "Żoliborz-Mokotów":

001 - 005  pomarańczowy winyl (do dyspozycji JJR, nie trafiają do sprzedaży)
006 - 010  czarny winyl  (do dyspozycji JJR, nie trafiają do sprzedaży)

011 - 115 pomarańczowy winyl
116 - 320 czarny winyl

TS – 001 – 013 – test pressing (z tego 11 egz. do sprzedaży)

Do sprzedaży w noc premiery z indywidualnymi numerami trafią płyty od nr 011 do 200. Krążki w obu kolorach z pożądanymi numerami będzie można znaleźć na jimmyjazz.pl, chwilę po północy 15.11.2013 (noc z piątku na sobotę) i będzie można je kupować tylko przez 4 dni, czyli do 19.11.2013 wlącznie!!! Po tym czasie wszystkie płyty będą sprzedawane losowo.
W dniu premiery płyty oznaczone numerami od 201 w górę będą widoczne na stronie sklepu w oddzielnej pozycji, a numer z tego zakresu będzie można zamówić, wpisując go w okienku korespondencyjnym na formularzu zamówienia. Jeśli numer będzie dostępny to zostanie wysłany, jeśli nie, zostanie spakowany inny numer.

Zapraszamy do naszego sklepu w nocy z 15 na 16 listopada.

Zamów ---> LP PARTIA - Żoliborz-Mokotów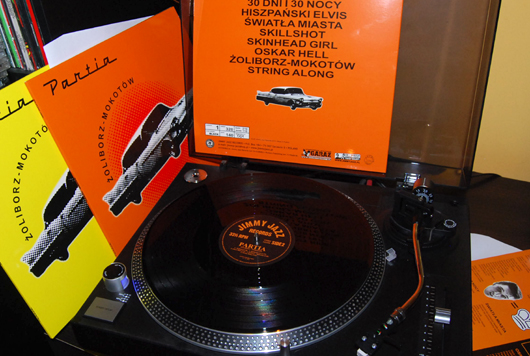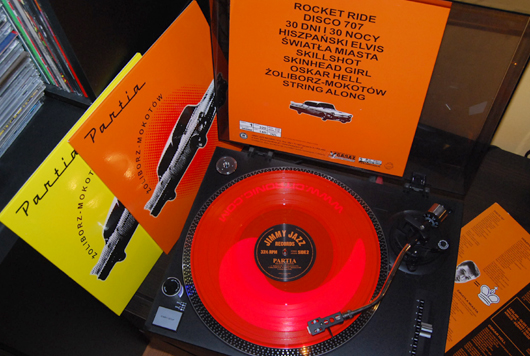 O PARTII:
Partia, działająca w latach 1993 - 2003 w chwili obecnej oceniana jest nie inaczej jak tylko w kategoriach kultowych. Fani grupy nie mają co do tego wątpliwości, a ci którzy nie mieli szczęścia i okazji zetknąć się z dokonaniami warszawiaków w okresie ich aktywności, mogą nadrobić zaległości. Swoją pozycję w historii polskiej muzyki zespół zawdzięcza w równej mierze doskonałemu repertuarowi opartemu o nowoczesne, charakterystyczne brzmienie powstałe w oparciu o swing, rockabilly, bigbit i punk oraz polską tradycję pop-kulturową lat 50, 60 i 70-tych.
To swoiste połączenie stworzyło muzyczny wizerunek Partii, który nawet po latach wydaje się być nie do podrobienia, a jego wizualnym uzupełnieniem jest stylowy image grupy.
Charakterystyczne teksty lidera zespołu Lesława, poza dużą dawka osobistych refleksji świadomie nawiązują do miejsc, w których na równi kształtowała się muzyczna i czysto ludzka świadomość muzyków. Nie przez przypadek jeden z albumów grupy nosi tytuł "Żoliborz-Mokotów" i nie przez przypadek Partia uznawana była za zespół na wskroś warszawski, co nie przeszkadzało zaistnieć jej szerzej .
Sceniczna aktywność Partii stała się inspirującym impulsem dla wielu artystów krajowej sceny muzycznej. Dowodem tego jest wydany w 2005 przez Jimmy Jazz Records album "Tribute to Partia", na którym swój muzyczny hołd dokonaniom kultowej formacji składa 24 wykonawców reprezentujących różne style muzyczne, a wśród nich m.in. The Analogs, Pustki, Muchy, Mitch & Mitch, Vespa, Happysad, Krzysztof Warga, Beri Beri, Wersja de Lux i wielu innych…
Ostatni koncert Partii odbył się 11 października 2003 roku w warszawskim klubie Galeria Off. Muzycy swoją artystyczną drogę do dzisiaj kontynuują w równie intrygujących Kometach, na koncertach sięgając po dokonania swojej poprzedniej formacji i wywołujące wśród fanów te same pozytywne reakcja jak przed laty. Dowodzi to niezbicie, że fenomen Partii pozostaje niepodważalny, a jej nagrania dziś i w przyszłości stanowić będą wskazówkę dla wielu artystów szukających inspiracji na krajowej scenie.
Wydany w ubiegłym roku przez Jimmy Jazz Records album "Umrzeć jak James Dean – The Besto of Partia" był podsumowaniem dorobku, którego Partia nie doczekała się przed laty, a jednocześnie początkiem zapowiedzianych reedycji kultowych płyt zespołu, na które zęby ostrza sobie wszyscy fani sprzed lat, a także ci, których fenomen grupy docenili dzięki "The Best of Partia".