CD REDAKCJA - "Cyfrowe średniowiecze". Premiera płyty i teledysku!!!
2012-10-08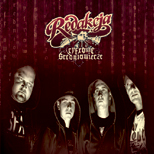 "Cyfrowe średniowiecze" to najnowsza odsłona muzycznych dokonań Redakcji, grupy dowodzonej przez Darka Duszę, tekściarza i kompozytora o długoletnim dorobku artystycznym, twórcy wielu przebojów i muzyka wielu znaczących projektów muzycznych.
Po zeszłorocznym albumie pt. "Horroskop" jest to już druga płyta zespołu, na której można usłyszeć 13 całkowicie premierowych utworów oraz dwa, współcześnie zarejestrowane nagrania Absurdu - jednej z dawnych, punkowych formacji Darka Duszy.

Debiut Redakcji spotkał się z dużym uznaniem recenzentów i przychylnością fanów ciekawych powrotu artysty po latach na stricte rockowo-punk'n'rollowe poletko. Muzyka Redakcji obroniła się bez trudu, a kompozycje "Dziś umarłem na ulicy", Karmazynowy śnieg", "Pięć dni w tygodniu" czy "Tak jak kot" wiele tygodni gościły na antenie wielu rozgłośni radiowych.
Po koncertowej konfrontacji z fanami i m.in. doskonałym przyjęciu na festiwalu "Rock na Bagnie" zespół postanowił skierować się twórczo w stronę mocniejszego brzmienia czego najlepszym dowodem jest nowy album, na którym dominują rockowe, soczyste kompozycje podlane brzmieniem nawiązującym do punkowej estetyki i nie pozbawione rock'n'rollowej przebojowości. Jak zwykle wizytówka dokonań Redakcji są charakterystyczne teksty Darka Duszy w zależności od intencji autora mniej lub bardziej refleksyjne ale zawsze będące odbiciem bliskiej rzeczywistości.

"Cyfrowe średniowiecze" to 15 muzyczno-słownych petard pośród których wzorem debiutu nie brakuje utworów od pierwszego kontaktu pozostających w głowie słuchacza. To doskonały łącznik pomiędzy tym co charakteryzuje dokonania Duszy sprzed lat (a co nigdy wcześniej nie doczekało się profesjonalnej realizacji), a tym co dzisiaj napędza artystę najbardziej. Solidny album dla każdego kto potrafi docenić siłę soczystego rockowego i rock'n'rollowego brzmienia.

Zamów płytę! ---> CD REDAKCJA - Cyfrowe średniowiecze




***** 

REDAKCJA to nowy zespół na polskiej scenie rockowej, ale z pewnością nie jest to formacja złożona z nowicjuszy. Siłą napędową, a także autorem całości repertuaru zespołu jest bowiem Dariusz Dusza - gitarzysta i autor tekstów, w przeszłości lider i współzałożyciel tak ważnych i legendarnych formacji polskiej sceny jak Śmierć Kliniczna, Absurd czy DiM. Dusza od lat z powodzeniem kontynuuje współpracę z Ireneuszem Dudkiem w formacji Skakin' Dudi. Obaj muzycy stworzyli wspólnie takie niezapomniane przeboje jak: "Au sza la la la" czy "Och, Ziuta".

Dusza nieprzerwanie występuje z Ireneuszem Dudkiem i nadal tworzy dla niego teksty, ma na swym koncie również współpracę z zespołem Dżem. Napisał dla niego m.in. teksty do takich utworów jak "Malowany ptak" czy "Zapal świeczkę".

Utwory skomponowane i napisane przez Dariusza Duszę znalazły się na kilkudziesięciu płytach, docierając do miliona odbiorców! Artysta występował w wielu programach telewizyjnych i na wszystkich znaczących festiwalach (zdobywając m.in. nagrodę publiczności na festiwalu opolskim).
Redakcja skupia utalentowanych muzyków. Łączy w sobie energetyczną muzykę z ambitnymi tekstami podążając stylistycznie w różnych kierunkach. Bazą repertuarową zespołu jest energetyczny rockowy repertuar, w którym odnaleźć można także kilka bardziej stonowanych kompozycji.

Redakcja z upodobaniem sięga po gitarowe przeboje oparte na tradycyjnym rock'n'rollu nie unikając niekiedy bardziej punkowych rytmów czy pojawiających się wpływów reggae, które dla wielu fanów mogą być łącznikiem dokonań Redakcji z tym co Dusza tworzył w formacji DiM.

REDAKCJA zadebiutowała albumem "Horroskop" wydanym w 2011 roku przez wytwórnię Jimmy Jazz Records. Premiera drugiej płyty zespołu zatytułowanej "Cyfrowe średniowiecze" zaplanowana została na 15 pażdziernika 2012, a wydawca ponownie jest Jimmy Jazz Records.

Pierwszym singlem promującym nowy album jest utwór "Sto pełnych samotności lat", do którego powstał także teledysk.