CD KoNoPiAnS "eSTiOuPi"...
2011-03-23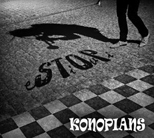 Pochodzący z czeladzi KoNoPiAnS to jeden z bardziej oryginalnych i rozpoznawalnych zespołów reggae na polskiej scenie, założony w 1996 roku swoją muzykę określa jako "Old.School.Reggae". Grupa jest jednym z pierwszych zespołów w kraju grających mixture Ska, EarlyReggae, Rocksteady, utrzymaną w klasycznym jamajskim stylu i brzmienu.
KoNoPiAnS znani są z energicznych, żywiołowych, przepełnionych improwizacją i dobrą zabawą koncertów, których maja na koncie ponad 300, w tym najbardziej znaczące festiwale reggae w kraju.
Dotychczasową dyskografię grupy stanowiły dwa wydawnictwa. Debiut płytowy grupy to singiel "Quantalaya" (2oo4 - wydany własnym sumptem pod szyldem ZSR.R /ZagłębiowskaScenaReggae.Records/), który zebrał wiele pozytywnych recenzji i przyjęty został ciepło przez fanów jamajskich brzmień. Wydany w limitowanej ilości 1000 sztuk rozszedł się w szybkim tempie... a utwór 'Słoneczko!' stał się znakiem rozpoznawczym zespołu. W 2oo6r KoNoPiAnS z okazji 10 urodzin nagrali swoją pierwszą oficjalną płytę zatytułowaną"'OneWay", w której nagraniu udział wziął Robert Brylewski - legenda polskiego Undergroundu - założyciel min. Izraela, BrygadyKryzys. Wydawcą płyty zostałą firma RockersPublishing. Album "OneWay" zebrał dobre recenzje i jest ogólnodostępna na rynku muzycznym.

W ostatnim czasie na rynku pojawił sie drgi pełny album grupy zatytułowany "eSTiOuPi" wzrem debiutu wydany samodzielnie przez zespół, tym razem pod szyldem BTW Publishing.
Płyta przynosi fanom grupy 12 nowych kompozycji i nie zawiedzie żadnego z wiernych fanów jamajskiej pulsacji. Grupa podąża wciąż tą samą drogą i kolejnym krążkiem podkreśla swoją dobrą pozycją i coraz lepszy muzyczny smak. Ska, Rocksteady i Reggae przenikają sie w dokonaniach KoNoPiAnS zatem miłośnikom gatunku nie pozostaje nic innego jak sięgnąc po nowy krążek, który jest już dostępny w naszym sklepie...

Zamów ---> CD KoNoPiAnS "eSTiOuPi"