CD Dr. Deadlock & Conga Line czyli debiut ska bandu w międzynarodowej obsadzie...
2016-02-06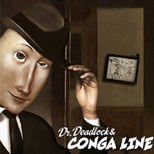 Jak czytamy na fejsbukowym profilu zespołu Dr. Deadlock & Conga Line jest to "muzyczny projekt z udziałem artystów z Polski, Niemiec, Anglii i Serbii", a ujmując temat w krótkich żołnierskich słowach to po prostu kapela ska, w którą od strony wykonawczej zaangażowany jest Dr. Deadlock (znany zapewne fanom ska jako frontman niemieckiej grupy Bluekilla, której albumy - jeszcze w erze kaset magnetofonowych - wydane zostały w Polsce przez poprzedniczkę Jimmy Jazz Records, wytwórnię Rock'n'roller) oraz grono polskich muzyków znanych z takich formacji jak Blade Loki, Bosa Nostra, Buraky, Mesajah i Lion Vibrations.
Początki projektu sięgają jednak czasów dość odległych bo okresu działalności wrocławskiej kapeli Faza, której materiału nigdy nie udało się zmaterializować w postaci albumu jednak po latach w głowie jednego z muzyków Fazy - Tomka Hołonowicza - pojawił się pomysł powrotu do starych nagrań i zarejestrowania ich z udziałem zaprzyjaźnionego wokalisty z Niemiec.
W rezultacie powstał mega profesjonalny materiał, mogący bez kompleksów konkurować z najlepszymi europejskimi formacjami z kręgu współczesnego ska z licznymi wpływami innych stylów muzycznych, co po części stało się za sprawa obecności Conga Line na najnowszej (szóstej) części kultowej składanki "Ska, Ska' Skandal" wydanej jak zwykle przez niemiecką wytwórnię Pork Pie.
Do ciekawych szczegółów dotyczących powstania zespołu i narodzin pomysłu na płytę ska w międzynarodowej obsadzie odsyłamy na profil zespołu ---> 
Dr. Deadlock & Conga Line
..... a do naszego sklepu zapraszamy zainteresowanych debiutanckim albumem grupy, wydanym przez zespół własnym sumptem... Krążek o tytule "Conga Line" jest już do waszej dyspozycji.