Bikiniarska Warszawa na płycie CRIMINAL TANGO.
2013-02-14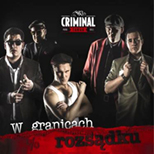 Warszawski swing-punk'owy band CRIMINAL TANGO debiutuje albumem "W granicach rozsądku".
Płyta oddaje stołeczny klimat bikiniarzy z lat 50tych. "Karty, vodka, plugawe dowcipy i łobuzerskie wybryki, to się nazywa prawdziwe życie" jak podaje fragment kroniki WFDiW "Walka z "bikiniarzami".
 
Criminal Tango to zgraja stołecznych obiboków grających mieszankę punk rocka, rockabilly, z domieszką swingu. Zespół istnieje od Października 2010 roku. Wtedy zagrał w jeszcze niepełnym składzie debiutancki koncert w klubie Dobra Karma. Rok później zostaje wydany minialbum zespołu pt. "Warszawscy Bikiniarze". 16 luty 2013 to data premierowej płyty zespołu pt. "W granicach rozsądku". Wydawcą krążka jest wytwórnia Fonografika.
 
Jak podaje lider zespołu "Płyta oddaje atmosferę stołecznych knajp lat 50tych. Zatłoczone bary przepełnione dymem papierosów, alkohol, kobiety i muzyka, płynąca z płyt winylowych. To także amerykańskie wozy, kolorowe skarpety i krawaty w bomby atomowe." 
"W granicach rozsądku"  to 12 pełno grających utworów. To album z dużą ilością rock'n rolla, punkową duszą i klimatem powojennej, bikiniarskiej Warszawy....
Płyta dostępna jest już w naszym sklepie.
Zamów ---> CD CRIMINAL TANGO