BOOZE & GLORY - As Bold As Brass już także na winylu!!!
2014-05-06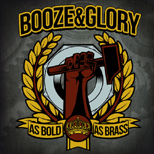 Trochę to trwało ale się udało... Pierwszy nakład winylowej płyty ostatniego albumu Booze & Glory sprzedał się dość szybko i nie udało nam się wówczas, ale udało się teraz... Musieliśmy czekać na doduk krążka, któtry właśnie trafił do naszej oferty. Zatem fani zespołu maja w tej chwili mozliwość przebierania zarówno w rodzajach nośników jaki w płytach swoich ulubieńców.

Winylowe wydanie "As Bold As Brass" pojawiło się za sprawą wytwórni Contra Records... CD wydany został przez Step-1 Music... obie płyty są do waszej dyspozycji w naszym sklepie (tam także dostępne są ponownie wszystkie poprzednie albumy Booze & Glory):

Zamów ---> CD/LP BOOZE & GLORY

Najnowszy album brytyjsko-polskiej grupy BOOZE & GLORY, która w ostatnim czasie wydaje się być jedną z najaktywniejszych i najbardziej cenionych formacji reprezentujących klimaty Oi! / Streetpunk w Europie nosi tytuł "As Bold As Brass".
Po dwóch albumach i nie mniej rewelacyjnej kompilacji singli oraz EP-ek zatytułowanej "London Skinhead Crew - Singles Collection" przyszła pora na trzeci regularny album i także tym razem fani z pewnością nie będą zawiedzeni.... Płyta nie pozostawia złudzeń co do pozycji jaką na scenie wywalczyli sobie BOOZE & GLORY...

Nowy album to 11 nowych utworów będących kontynuacją charakterystycznego stylu zespołu, znanego z poprzednich wydawnictw, nawiązującego do klasycznego brzemienia Oi!... Coraz trudniej znaleźć dzisiaj kapele, które tak udanie nawiązują do korzeni ulicznego grania, stąd zapewne spora popularność Booze & Glory w Europie, w tym także w Polsce gdzie o zainteresowaniu fanów decyduje dodatkowo "pierwiastek polski" w składzie kapeli.
Najlepiej jednak broni się muzyka czego nowy album jest dowodem.