BLISTERHEAD ponownie odwiedza Polskę.
2005-09-21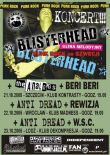 W październiku, po raz drugi przyjedzie na koncerty do Polski szwedzka grupa BLISTERHEAD grająca ultra melodyjny punk rock, zainspirowany dokonaniami klasyków róznych odmian punk rocka. Sami muzycy najchętniej przyznają się do fascynacji dokonaniami m.in. The Clash i Rancid co juz wkrótce będzie mozna zweryfikować oglądając zespół na zywo.
Blisterhead ma na koncie 2 albumy, odba doskonale przyjęte na europejskiej scenie punk. Jeden z nich doczekał się takze polskiego wydania, najnowszy krązek "Via Casilina" wypuściła firma Jimmy Jazz Records.
Grupa wystapi:
21.10.2005 - SZCZECIN, klub Kontrasty
+ THE ANALOGS i BERI BERI
22.10.2005 - WROCŁAW, klub Madness
+ ANTI DREAD i REWIZJA
23.10.2005 - ŁÓDZ, klub Dekompresja
+ ANTI DREAD i WAY SIDE CREW
Bilety:
- w przedsprzedazy 12 zł
- w dniu koncertu 15 zł.