BDG XX HCP: BYDGOSKIE 20-LECIE HC PUNKA
2010-11-24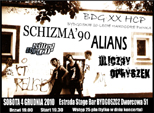 Sobota, 4 grudnia 2010
ESTRADA STAGE BAR (Dworcowa 51, Bydgoszcz)

BDG XX HCP: BYDGOSKIE 20-LECIE HC PUNKA

Zagrają:

SCHIZMA'90 (Bydgoszcz)
ALIANS (Piła)
ULICZNY OPRYSZEK (Nowy Tomyśl)
KILLED BY CAR (Bydgoszcz)

Drzwi: 19.00

Start: 19.30

Wstęp: 25 pln (tylko w dniu koncertu)

Słowo hardcore to dzisiaj część słownika polszczyzny potocznej, a jego odniesienia do świata muzyki sięgają zarówno w sferę brzmień zbliżonych do metalu, jak i w zupełnie inne, taneczne i hip hopowe obszary. Dwadzieścia lat temu sytuacja miała się zupełnie inaczej…

Jak zauważa w swojej świeżo wydanej książce "Proniona generacja?" jej autor Krzysztof Grabowski, na co dzień (już od 30 lat) perkusista i tekściarz klasyków polskiego punk rocka, zespołu Dezerter, termin hardcore punk pojawił się w Polsce po raz pierwszy w połowie lat 80-tych. Jednak dopiero pod koniec tamtej dekady, u schyłku ery komunizmu, określenie to zaczęło mieć charakter generacyjnej identyfikacji. To właśnie wtedy całe grupy młodych ludzi szukających w szybko zmieniającym się świecie trwałych wartości odnalazło punk rock w dużo ostrzejszym, a jednocześnie bardziej wymagającym (zarówno muzycznie jak i w kwestii przekazu słownego) wydaniu.

To właśnie wtedy Kompania Karna, jedna z czołowych bydgoskich grup "jarocińskiego" punk rocka drugiej połowy lat 80-tych postanowiła odrzucić formułę, która wtedy wydawała się całkowicie zużytą i podjąć nowe wyzwanie pod wiele mówiąca nazwą Schizma. 1 grudnia 1990 roku, w nieistniejącym już dziś domu kultury Milenium, miał miejsce ostatni koncert tej pierwszej, a jednocześnie pierwszy tej drugiej. Hardcore punk zawitał nad Brdę wraz z setkami jego wyznawców po raz pierwszy z taką siłą, wielu bulwersując i odrzucając, ale równie wielu przekonując i porywając. Zawitał po to, aby pozostać do dziś…

W sobotę, 4 grudnia, niemal dokładnie 20 lat od wspomnianego wyżej koncertu, w bydgoskim klubie Estrada spróbujemy odtworzyć tamtą atmosferę. Muzycy, którzy wtedy przechodzili transformację od młodzieńczego gniewu punkowej Kompanii Karnej do tylko odrobinę bardziej dorosłej furii Schizmy, tworzą dziś formację o nazwie Schizma'90. Z niewielką, aczkolwiek absolutnie fundamentalną pomocą Tomka Dorna, byłego perkusisty legendarnych bydgoskich formacji Abaddon i Variete, zagrają utwory z lat minionych, ale również kilka zupełnie nowych, całkowicie premierowych kawałków. Zespół Alians (również obchodzący swoje 20-lecie), który współtworzył tamtą "scenę" i na długo przed Pidżamą Porno i Grabarzem zdefiniował tzw. "pilskie brzmienie", zaprezentuje repertuar zarówno z zamierzchłej przeszłości, jak i ten ze swojej tegorocznej, zdominowanej przez ska i reggae nowej płyty "Egzystencjalna rzeźnia". Uliczny Opryszek z Nowego Tomyśla co prawda nigdy nie był kojarzony z etykietką "HC", ale ich ostatnia płyta, "Na zawsze punk", to wybuchowy zestaw 'cover songs' polskich kapel punkowych sprzed 20 i 30 lat, również tych nigdzie i nigdy nie publikowanych - a przecież to właśnie z tego tygla muzycznego buntu zrodził się polski hardcore. Killed By Car to przedstawiciele bydgoskiej młodzieży grający melodyjnie ale ostro, zaprawieni już w bojach, chociażby na tegorocznej edycji Muszlafest. Ten eklektyczny, ale bardzo dobrze oddający ducha przełomu sprzed 20 lat zestaw kapel pojawi się na scenie nie tylko w celach nostalgiczno-wspomnieniowych, ale również po to, aby nikt już nie miał wątpliwości, że Bydgoszcz to miasto prawdziwie… "hardkorowe".