BANG BANG + PILS
2011-01-20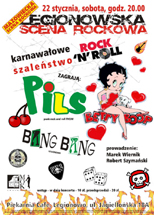 W karnawałową sobotę 22 stycznia 2011 w Legionowie zagrają połaczone siły Mazowieckiej i Legionowskiej Sceny Rockowej.
Na koncecie w klubie "PIEKARNIA" wystapia dwie załogi: tyski PILS i legionowski BANG BANG.

PILS to zespół, który powstał w 2005 roku i gra w stylistyce street punk'77. W październiku 2008 roku zespół wydał swoją debiutancką płytę "Punk Rock Gang" (Noise Annoys). Na płycie znalazło się 14 utworów, a wśród nich covery The Damned i Dickies z polskimi tekstami. W kawałku "More Beer For The Punx" gościnnie zdziera gardło ich starszy kolega po fachu - Iglak z Bulbulators. (Bulbulators wystapili latem 2010 na VI Legionowo Rock Festiwal)

BANG BANG to zasłużona legionowska formacja, mająca na koncie dwie płyty (obie Jimmy Jazz Records) z czego ostatnia,  "To Legionowo" została bardzo ciepło przyjeta przez fanów. Zespół niezmiennie wierny jest brzmieniu punk77.

Koncert poprowadzą Marek Wiernik i Robert Szymański współtwórcy Mazowieckiej Sceny Rockowej.
Wstęp 10 PLN, miejsce akcji legionowski klub "PIEKARNIA" (ul. Jagiellońska 18A).
Organizatorem jest Miejski Ośrodek Kultury w Legionowie.
Zapraszamy.