"Achtung 2012" - Nowy album FARBEN LEHRE
2012-09-07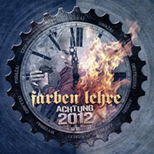 17 wrzesnia światło dzienne ujrzy dziesiąty studyjny album formacji FARBEN LEHRE, zatytułowany złowieszczo "Achtung 2012", który - jak utrzymauje wydawca, firma Lou & Rocked Boys - jest wyjątkowy pod wieloma względami.
Tym razem płoccy muzycy zaprosili do studia rekordową ilość wyjątkowych gości, którzy w znaczący sposób przyczynili się do powstania tej najdojrzalszej i zdecydowanie najciekawszej płyty w ponad 25-letnim dorobku kapeli. Swego wokalu użyczyli, m.in. Anja Orthodox, gotycka ikona z Closterkeller, Gutek z Indios Bravos oraz Kamil Bednarek, młoda nadzieja polskiej muzyki reggae. Z kolei instrumentalnie całe przedsięwzięcie wsparli swoimi dźwiękami tacy muzycy jak: szalony skrzypek czyli Michał Jelonek, grający na akordeonie i udzielający się w chórkach Lolek (Enej), nietuzinkowy gitarzysta Mariusz Kumala (Closterkeller) czy udzielający się tym razem na fujarce Przemek Zwias z formacji Akurat. Łącznie w warszawskim studio Serakos, podczas sesji nagraniowej, w lipcu 2012 roku pojawiło się 14 gości.

Całą oprawą graficzną albumu "Achtung 2012" zajęła się firma Mental.Porn, odpowiedzialna wcześniej, min. za okładkę albumu "Snukraina" czy dvd "Punky Reggae live". Muzycy zgodnie twierdzą, że szykuje się okładka najciekawsza z dotychczasowych.

Nowy krążek FARBEN LEHRE wypełniają bardzo zróżnicowane kompozycje, zarówno pod względem klimatu, ekspresji, przekazu, jak i brzmienia. Mimo to całość brzmi wyjątkowo spójnie. W poważnym stopniu dźwięki stanowią kontynuację energetycznego grania, zatem wierni zwolennicy kwartetu z pewnością będą usatysfakcjonowani. Takie typowo "farbenowe" fragmenty to, m.in. tytułowy "Achtung 2012", "Minus jeden" czy "Zbrodnia i wiara". Jednocześnie kilka kawałków mocno poszerza artystyczne horyzonty kapeli i bez wątpienia będzie sporym zaskoczeniem dla potencjalnych odbiorców. Utwory takie jak "Aura", "Coś" czy "Omen" to zaskakujący powiew świeżości i rzadko spotykanych klimatów w twórczości FL. Całości dopełniają interesujące, bogate w aranżację reggae-kawałki "Anioły i demony" i "Pasja" oraz żywiołowe, pozytywne w przekazie "Femina" czy "Kontrasty". Tekstowo Wojciech Wojda z jednej strony krytykuje, atakuje oraz piętnuje pewnego rodzaju postawy czy codzienne sytuacje, a z drugiej zaszczepia w słuchaczy sporą dawkę optymizmu i radości życia.
Pozytyw kontra negatyw, radość kontra smutek to esencja przekazu najnowszego dzieła "Chłopaków z Mazowsza", celnie ujęta w słowach piosenki "Wataha".
Tytuł "Achtung 2012" w prostej linii nawiązuje do przepowiedni Majów o nadchodzącym w tym roku końcu świata, jednak słuchając muzycznej zawartości warto użyć cytatu zespołu sprzed lat: "…po co się bać, gdy w duszy gra muzyka…".

Premiera płyty 17 września, ale juz dziś można ja zamawiać w naszym sklepie.

Zamów ---> CD FARBEN LEHRE - "Achtung 2012"