AQQ + FORT BS + GETAHEAD
2007-09-04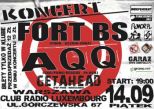 FORT BS (PUNK – JELENIA GÓRA)
AQQ (SKA/PUNK/REGGAE – PŁOCK)
GETAHEAD (POP PUNK – WARSZAWA)
14.09.2007r.
Start punktualnie: godz. 19.00
CLUB RADIO LUXEMBOURG
Warszawa, ul. Górczewski 67
FORT BS
Lata się nie liczą a jednak...
Zespół FORT BS powstał w roku 1983 kiedy to w głowach muzyków urodziła się idea skomentowania słowem i dźwiękiem otaczającej rzeczywistości. Rok 1984 to pierwsze lokalne koncerty oraz pierwszy mały sukces na FMR JAROCIN 84 gdzie po raz drugi kapela gra następnego roku. Zgodnie z zasadą "do trzech razy sztuka" FORT BS bierze udział w FMR JAROCIN 86 i zostaje jednym z laureatów, otrzymuje też nagrodę od władz Jarocina.
Nazwa FORT BS trafia do świadomości odbiorców. Numer "Rozhulantyna" trafia na składankę "Jeszcze Młodsza Generacja". Grupa jeździ z koncertami po kraju.
Przyjaciel zespołu własnymi siłami wydaje pierwszą kasetę, którą jest rozprowadzana na koncertach.
W roku 1992 ukazuje się pierwsze oficjalne wydawnictwo zespołu pt. "PUNK & ROLL". Materiał zawiera 15 "czaderskich" utworów. Rok później wychodzi drugie wydawnictwo "TUTAJ WSZYSTKO JEST INACZEJ" które jest materiałem koncertowym. Po raz kolejny kapela gra na festiwalu w Jarocinie, pojawia się także w katowickim Spodku na festiwalu ODJAZDY 93 oraz gra za zachodnią granicą w Monachium na ROCK – FESTIVAL.
Utwory zespołu ukazują się na licznych składankach: "CZADU", "BYŁ KIEDYŚ JAROCIN", "TOP PUNKS" i "ODLOT". Trzeci materiał "HOOLIGANS from FORT BS" ukazuje się w roku 1994 w którym to też po raz kolejny zespół zagościł na FMR JAROCIN94.
Po długiej przerwie spowodowanej m.in. wyjazdem Cichego do Anglii zespół powrócił w roku 2006 zaproszony do udziału w nowej edycji jarocińskiego festiwalu gdzie spotkał się z bardzo dobrym przyjęciem publiczności. Okazuje się że muzyce w przeciwieństwie do członków zespołu nie przybywa lat. Wkrótce FORT BS zaczyna grać regularne konerty odzwiedzając kolejne miasta Polski. Cichy na stałe opuszcza Wyspy wracając do Ojczyzny w tym roku. Kapela z wielkim zapałem zaczyna prace nad nowym materiałem.
Niebawem nakładem firmy "MTJ" ukażę się reedycja materiału koncertowego "Tutaj wszystko jest inaczej". Premiera nowej płyty planowana jest na wiosnę przyszłego roku, będzie połączona z dwudziestymi piątymi urodzinami zespołu.
Obecny skład :
CICHY- głos, ARTURRO – bass, DADA – gitara, ZDZICHU – perkusja, WISIOR – saxofon
Więcej informacji o zespole:
www.fortbs.pl
AQQ
Zespół powstał na początku 2005roku w Płocku.
AQQ tworzą muzycy współpracujący wcześniej z takimi zespołami jak: Farben Lehre i Podwórkowi Chuligani. Muzyka AQQ to połączenie punkowo – rock&rollowej ekspresji z elementami muzyki ska i reggae.
W swojej krótkiej historii załoga AQQ zagrała w takich miastach jak: Bielsko Biała, Wrocław, Poznań, Toruń, Częstochowa, Płock, Płońsk, Sierpc, Września, Wieluń, Dzierżoniów, Głownie.
Latem br. zespół został zauważony przez organizatorów dużych festiwali czego wyrazem było zaproszenie AQQ na największy europejski festiwal: "XIII Przystanek Woodstock 2007" oraz międzynarodowy "Slot Art. Festival", który odbywa się w Lubiążu koło Wrocławia.
http://www.youtube.com/watch?v=BgthSjiq8l (video "Przystanek Woodstock 2007")
13 listopada 2006 roku zespół za pośrednictwem wydawnictwa "Jimmy Jazz Records" wydał swój debiutancki album pt.: "Nic Nie Muszę".
Patronat medialny nad płytą AQQ objęła telewizja muzyczna 4fun.tv, w której emitowany jest teledysk do utworu "Kieszenie"
http://www.youtube.com/watch?v=zId5k-UVNpk (teledysk)
Płyta uzyskała pochlebną recenzje pisma "Teraz Rock". Słuchacze poznańskiego radia "Afera" wybrali debiutancki krążęk płockiej formacji płytą miesiąca stycznia 2007 roku, a internauci rumor.pl uznali AQQ jako jeden z najlepszych debiutów roku 2006.
Pierwszą płyte pilotował singel "Niezależnie Zależni" zawierający cztery piosenki z płyty który został wydany własnym nakładem przez zespół. Utwory z pierwszego krążka AQQ znalazły się również na dwóch składankach:
- "Mp3 Compilation vol.3" – dwu płytowa składanka, zawierająca najciekawsze zespoły polskiej sceny niezależnej. Płyta wydana przez band.pl w 2006 roku.
- "Garaż #25" – płyta dołączona do dwudziestego piątego numeru prestiżowego pisma "Garaż".
Obecnie zespół zarejestrował materiał na swoją drugą płytę pod roboczym tytułem "Dobrze się bawię". Na płycie znajdzie się zdecydowanie więcej elementów muzyki ska. Kilka nowych piosenek można będzie usłyszeć już podczas najbliższych koncertów.
Skład zespołu:
Witek Stoparek – wokal, Robert Chabowski – gitara, wokal
Artur Kania – gitara basowa, chórki, Darek Szadkowski – trąbka, chórki
Adam Przemyłski – perkusja

Więcej informacji o zespole znajdziecie na oficjalnej stronie internetowej zespołu www.aqq.prv.pl

GETAHEAD
Informacje o zespole:
http://www.myspace.com/getahead
________________________________________________________

Bilety do nabycia tylko w Clubie Radio Luxembourg (ul. Górczewska 67) Przedsprzedaż – 12zł
W dniu koncertu – 15 zł
W trakcie koncertu będzie możliwość nabycia płyt i koszulek zespołów w atrakcyjnych cenach.
Kontakt z organizatorem :
robert.aqq@op.pl