APE - Kolejny punkowy debiut z Podhala
2011-06-16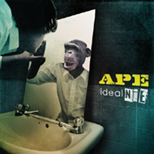 Oto przed nami najnowsza i ostatnia przed wakacjami premiera w katalogu Jimmy Jazz Records... Tym razem kolejna próbka punk rocka z Podhala...

Maniowy to jedno z najbardziej upunkowionych miejsc w Polsce. W tej podhalańskiej miejscowości działa kilkanaście zespołów punkowych, przy czym jeden z nich zdobył już sobie spore uznanie poza Podhalem. Mowa o grupie ADHD SYNDROM, pracującej właśnie nad nowym krążkiem, która za sprawą albumu "Grzeczna młodzież" zaistniała szerzej w świadomości fanów punk rocka w całym kraju.
Działalność ADHD Syndrom stała sie impulsem dla kolejnych muzyków, którzy pod koniec 2008 roku zdecydowali się na wspólne granie, a dzisiaj debiutują albumem zatytuowanym "Idealnie".

Zespoły APE i ADHD SYNDROM pochodzą z jednej miejscowości, a ich płyty trafiły do katalogu jednej wytwórni - Jimmy Jazz Records. Obie grupy kierują swoją muzykę do podobnej grupy odbiorców i obie zafascynowane są melodyjnym punk rockiem.
Choć APE jest dopiero na początku swojej muzycznej drogi poszukując własnego, charakterystycznego brzmienia to już dzisiaj muzycy zdają się posiadać spory potencjał, i świadomość kierunku, w którym zamierzaja podążać. Jak sami twierdzą: - Mamy jeszcze nie do końca uformowany styl, coś między melodyjnym punkiem, a klasycznym punk rockiem, W każdym razie ważne jest aby było melodyjnie i energicznie.

Taki właśnie jest debiutanck album APE "Idealnie". Energiczny i melodyjny z 13 punkowymi utworami z (głownie) polskimi tekstami, raz ostrzejszymi, a innym razem ocierającymi się o pop punk, którymi zespół bez problemu powinien trafić do zwolenników gatunku.
Grupa ma już na swoim koncie koncerty na południu Polski i obecność na składance "Fermentacja" wydanej przez lokalne stowarzyszenie TKA "Ferment", a w najbliższym czasie pojawi się na scenie tegorocznej edycji festiwalu Rock Na Bagnie w Strękowej Górze.

17 czerwca zespół planuje koncert, którego celem jest promocja debiutanckiego albumu.
Impreza odbędzie się w nowotarskim klubie "Dudek". Start o godzinie 19.00, wjazd: 7 zł, a oprócz APE na scenie pojawią sie także: ADHD SYNDROM, SELFHATED MACHINE i LAST BELIEVER.

Pierwszym singlem promującycm album "Idealnie" będzie utwór "Obecna chwila", który już wkrótce trafi do rozgłósni radiowych... a po płytę zapraszamy do naszego sklepu...

Zamów ---> CD APE - "Idealnie"