ALIANS - Egzystencjalna rzeźnia.... Polowanie na numery winyli...
2010-04-29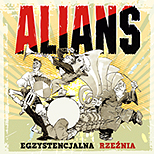 Legendy polskiej sceny niezależnej w większości przypadków można dzisiaj spotkać na kartach wspominkowych publikacji lub na półkach ze starymi płytami. Nie wszystkie...

20 letni dorobek sceniczny i nieprzerwana aktywność to dzisiaj domena nielicznych ale z pewnością można do nich zaliczyć pilski Alians, który wkrótce przypomni się nowym albumem o tytule "Egzystencjalna rzeźnia".

Alians powstał w 1990 roku w Pile i zadebiutował wydanym samodzielnie singlem "Sami wobec siebie", występując niejednokrotnie m.in. u boku takich legend muzyki niezależnej jak Fugazi, NoMeansNo, The Ukrainians czy Chumbawamba. Wystapił także na jednej scenie z nowym projektem Shane MacGowana, legendarnego wokalisty The Pogues.
Pierwszy album zatytułowany "Mega Yoga" wydał samodzielnie w 1992 roku, w wersji kasetowej, którą wkrótce zastąpiła edycja kompaktowa. Było to raczej oficjalne demo niż prawdziwie artystyczna wypowiedź, choć już ten materiał wskazywał na spore możliwości zespołu sięgającego po nie-rockowe instrumentarium i ciekawe aranżacje na bazie punk rocka przełomu lat 70. i 80 (z jego ciągotkami do reggae).
Alians zdobywał zwolenników zarówno w polskim światku niezależnym, jak i poza granicami zaliczając przez kolejne lata dziesiątki koncertów po Czechach, Niemczech, Szwajcarii, Holandii, Belgii, Norwegii, Anglii... W Polsce występował regularnie. Jest rekordzistą jeśli chodzi o występy na toruńskim festiwalu Africa is Hungry grał na niemal wszystkich najważniejszych festiwalach rockowych w kraju, w tym na festiwalu w Jarocinie oraz przystanku Woodstock w Kostrzynie nad Odrą. Odwiedzał także wielokrotnie niemal wszystkie centra niezależnej kultury w Polsce i tej części Europy.
Ważną częścią aktywności grupy są występy o charakterze nie tylko muzycznym – wspomniany charytatywny festiwal w Toruniu czy koncerty dla Muzycznego Forum Niezależnej Białorusi.

Album "Gavroche" z 1994 roku to już klarowne brzmienie zespołu. Przeważały tu krótkie, dynamiczne, a przy tym melodyjne utwory punkowe, z domieszką folku, reggae i ska. Zwracały uwagę teksty.
1996 rok to trzeci, bardzo efektownie wydany album pt. "Cała anarchia mieści się w uliczniku". Repertuar zespołu nabrał tu bardziej folkowego charakteru, ale tradycyjnie grupa nie zapomniała dotychczasowym stylu.
W 1998 roku Alians zarejestrował mini-album "W samo południe". Jednak dopiero 2 lata później "pełnometrażowe" "Równe

Prawa" pokazały pełnię możliwości grupy dowodząc, że dla Aliansu coraz większe znaczenie mają kompozycje reggae oraz ska, bo wśród 20 utworów znalazło się zaledwie pięć typowo punkowych.
W 2000 i 2001 roku Alians wystąpił podczas Punkowej Orkiestry Świątecznej Pomocy w Krakowie. Ponadto członkowie grupy wspomagali Pidżamę Porno na płytach "Złodzieje zapalniczek", "Styropian" i "Marchef w butonierce".

Ostatnim jak dotychczas albumem grupy była "Pełnia" wydana w 2003 roku, kontynuująca stylistykę znaną z "Równych praw", natomiast rok 2006 przyniósł singiel "Nielegalni". Choć coraz głośniej pobrzmiewały informacje o nowym albumie, to jednak w tym okresie zespół zmniejszył aktywność koncertową w wyniku sporych i częstych zmian personalnych. Nie przeszkodziły one jednak w stałej obecności grupy na najbardziej prestiżowych imprezach muzycznych i koncertach klubowych.
Do chwili obecnej Alians ponad 500 razy pojawił się na scenie.
(wykorzystano fragmenty biografii zespołu autorstwa Leszka Gnoińskiego)

W roku 2009 zespół zakończył pracę w studio, której efektem jest materiał na nowy, długo oczekiwany przez fanów krążek, zatytułowany "Egzystencjalna rzeźnia". Ponad 50 minut muzyki wypełniającej płytę to kontynuacja najlepszych dokonań zespołu z okresu "Równych praw" i "Pełni".
Oddając do rąk fanów całkowicie premierowy repertuar Alians nie oparł się drobnym powrotom do przeszłości umieszczając na płycie także nową wersję swojej własnej kompozycji ("Zosia na wrotkach") i reggae'owy klasyk Izraela ("Życie jak muzyka").
Nie mogło zabraknąć singla "Nielegalni" będącego ostatnim fonograficznym sygnałem aktywności zespołu. Poza muzykami grupy gościnnie na płycie pojawili się: Kuba Kaczmarek (Cała Góra Barwinków), jeden z najbardziej obiecujących polskich sound systemów (Babylon Error Sound System) oraz cała ogromna grupa muzyków sesyjnych zaprzyjaźnionych z zespołem.

Perfekcyjna dbałość o szczegóły brzmieniowe, charakterystyczne teksty, w których powaga i ironia walczą o prymat pierwszeństwa w definiowaniu rzeczywistości oraz specyficzne brzmienie Aliansu z pogranicza reggae, ska, folk i punk to wszystko czego oczekują fani i co z pewnością dostaną sięgając po nową płytę.

Poza tradycyjną wersją CD krążek wydany zostanie także w wersji winylowej (na trzech kolorach winylu - czarnym , żołtym i czerwonym) różniącej się od wydania na CD nie tylko zawartością muzyczną, ale także szatą graficzną (inna okładka + wkładka z tekstami). To pierwszy w dorobku zespół album wydany na winylu.....
W każdej płycie CD nabywcy płyty znajdą specjalną nalepkę z logiem grupy i motywem graficznym z płyty.
Premierze towarzyszyć będzie także pojawienie sie dwóch wzorów koszulek grupy nawiązujących motywami graficznymi do nowej płyty.
Alians zaprasza do "Egzystencjalnej rzeźni".....

Jeszcze przed pojawieniem się albumu w sklepach cała jego zawartość dostępny będzie do odsłuchania na profilu Myspace zespołu.

PREMIERA "Egzystencjalnej rzeźni" 8 maja, ale już od czwartku, 29.04.2010 od godz. 23.00 uruchamiamy sprzedaż przedpremierową. W naszym sklepie pojawi się nowy CD Alians oraz płyty winylowe z możliwośćią - wzorem ostatniego wydawnictwa winylowego The Analogs - upolowania własnego numeru płyty, która wydana została w limitowanej, recznie numerowanej edycji 500 egzemplarzy.

Pierwsza wysyłka przedpremierowych zamówień w piatek 7 maja......

UWAGA... 29.04.2010, godz. 23.00..... UPOLUJ WŁASNY NUMER PŁYTY WINYLOWEJ.....