ADMINISTRATORR - "Powierzchnie wspolne"... Nowy album 9 listopada.
2013-10-31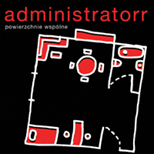 Administratorr to pseudonim artystyczny gitarzysty Bartosza Marmola, a jednocześnie nazwa zespołu, który od roku 2010 związany jest z wytwórnią Jimmy Jazz Records i dla niej nagrał swoje dwa dotychczasowe albumy: debiutanckie "Piosenki w kaftanie" i nagrane wspólnie z Lesławem (Komety) "Piosenki o Warszawie".
Oba wydawnictwa otrzymały bardzo dobre oceny zarówno ze strony fanów jak i recenzentów muzycznych. Takie utwory jak "Rowerem na Wolę", "Berliner", "Polityczna zagłada" na stałe zadomowiły się na playlistach wielu rozgłośni radiowych.

Najnowszy album o tytule "Powierzchnie wspólne" powstawał równolegle ze wspomnianymi "Piosenkami o Warszawie". Obie płyty mają wspólny muzyczny mianownik, choć tworzą odrębne historie choćby za sprawą tematyki tekstów. Administratorr podkreśla, że ten materiał muzyczny to "powierzchnia wyjątkowo osobista". Teksty choć czasami surrealistyczne to jednak zrozumiałe, pokazują naszą codzienność, stosunki międzyludzkie, a także świat polityki.

Nowy album to muzyczna kontynuacja drogi obranej przy debiutanckiej płycie. Nie ma wątpliwości, że w dokonaniach Administratorra mamy do czynienia z muzyczną alternatywą, ze źródłami w garażowym rocku i rdzennym rock'n'rollu nie pozbawioną jednak wielu smaczków rodem z zupełnie innej bajki. Ciągły rozwój i kolejne etapy muzycznego wtajemniczenia to zresztą jedna z wizytówek Administratorra.
Choć za sprawą przebojowego repertuaru "Powierzchniom wspólnym" bliżej zapewne do radiowych list przebojów niż sceny garażowej to jednak bezsprzecznie nie mamy tu do czynienia z muzyką lekką, łatwa i przyjemną ale z rasową, solidną porcja alternatywnego, przebojowego rock'n'rolla, który docenić jest w stanie każdy kto postanowi poświęcić tej płycie trochę swojego czasu.

Premiera albumu 9 listopada, ale już teraz zapraszamy do naszego sklepu gdzie można składać zamówienia na płytę...

ZAMÓW ---> CD ADMINISTRATORR - Powierzchnie wspólne




O ZESPOLE
ADMINISTRATORR to warszawska formacja  grająca muzykę alternatywną i jednocześnie pseudonim artystyczny  jej założyciela Bartosza Marmola, który powołał go do życia w marcu 2009 r. Wówczas to muzycy związani z projektem Vertigo (Marcin Wippich, Wiktor Stokowski, Piotr Skórka) postanowili nawiązać współpracę z Administratorrem. Nazwa zespołu nawiązuje bezpośrednio do doświadczeń zawodowych Marmola, a pośrednio i metaforycznie jest odzwierciedleniem wizji świata w której coraz więcej przestrzeni życiowej ulega formalizacji w której uprawnienia administratora kreują rzeczywistość. Cechą charakterystyczną twórczości ADMINISTRATORRA jest oryginalny proces twórczy, który opiera się na autorskiej koncepcji zakładającej iż każdy z utworów jest swoistą ścieżką dźwiękową do wcześniej stworzonego opowiadania. Teksty i muzyka nawiązują luźno do jego fabuły i klimatu. Początkowo projekt miał mieć charakter studyjny i jednorazowy, a pomyślany był jako soundtrack do tomiku opowiadań Administratorra pod tytułem "Opowiadania w kaftanie". Właśnie w takim celu jesienią 2009 r.,  w studio Serakos zrealizowano nagrania które składają się na debiutancki album ADMINISTRATORRA pt. Piosenki w kaftanie (który wydany został w 2010 r. nakładem Jimmy Jazz Records). Projekt ADMINISTRATORR przerodził się z czasem w zespół, który tworzy swoją muzykę i teksty  w oparciu o idee wypracowaną w czasie nagrywania "Piosenek w kaftanie".

W 2011 r. ADMINISTRATORR rozpoczął współpracę z Lesławem (KOMETY), której efektem jest płyta "Piosenki o Warszawie", poświęcona w całości przestrzeni współczesnej stolicy, do nagrania której zaproszono wielu gości (min. Muniek Staszczyk, Muzyka Końca Lata, Skowyt…).  Płyta Piosenki o Warszawie miała premierę w lutym 2013 r.

Realizując "Piosenkami o Warszawie" Administratorr pracował równolegle nad  swoja drugą płytą autorską pt. "Powierzchnie wspólne".
Pierwszą zapowiedzią nowego albumu był wideoklip "Królowa Cellulitu" (dostępny na You Tube JimmyJazzTV).
Oficjalnym radiowym singlem został utwór "Guziki", który od 21 października gości w rozgłośniach radiowych.