"A Tribute To Batmobile vol.2" z udziałem KOMET.
2005-10-25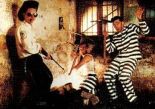 Po wydaniu pierwszej cześci składanki "A Tribute To Batmobile", która pojawiła sie w sklepach ponad rok temu, przyszła pora na drugą porcję kawałków Batmobile w interpretacji innych wykonawców. Można odnieśc wrażenie, że wydawca - japońska firma On The Hill Records - Zdecydowała sie na siegnięcie po wykonawców mniej znanych lub w pewien sposób egzotycznych co w żadnym z przypadków nie oznacza, że mniej atrakcyjnych. Można nawet zaryzykować stwierdzenie, że taki, a nie inny dobór kapel na płycie stanowi o jej atrakcyjności zarówno dla japońskich fanów jak i ich odpowiedników w Europie, gdzie druga część składanki z pewnością trafi lada chwila.
"A Tribute To Batmobile vol.1" zawierał miedzy innymi nagrania znanych w Polsce GORILLA (Węgry) i MAD HEADS (Ukraina), a także wielu grup z pozostałych zakątków globu takich jak OS CATALEPTICOS, SPIKIE, VOODOO MONKEYS, MOINSTER A GO-GO's, PROPELLERS, EDDYHEZ, DIAMOND RAKES, PHOTON TORPEDOS, MOSQUITO, LOS RANCHEROS,NOTORIOUS DEAFMEN, SLAPPING SUSPENDERS... i innych. Na dodatek sami muzycy z Batmobile uatrakcyjnili składankę jednym nowym utworem.
Podobnie stało się na "A Tribute To Batmobile vol.2", która prezentuje sporą grupę interesujących wykonawców z wielu zakątków świata. Pośród nich nie zabrakło polskich KOMET, które znajdujemy na płycie - wydanej w wersji CD i LP - w utworze "Love Disease".
Poniżej pełna lista utworów z drugiej części składanki poświęconej Batmobile:
1. RADIO FRANKENSTEINS (JAPAN) - BAT ATTACK
2. THEE FLATLINERS (AUSTRIA) - MYSTERY STREET
3. TAGGY TONES (DENMARK) - BRING ALL MY LOVE
4. CHIBUKU (GERMANY) - MAGIC WORD CALLED LOVE
5. MACH JAPONICA (JAPAN) - GORILLA ROCK
6. INOPORTUNOS (SPAIN) - TRANSSYLVANIAN EXPRESS
7. PEACOCKS (SWITZERLAND) - MAD AT YOU
8. WANTED (RUSSIA) - ZOMBIE RIOT
9. EVIL GNOMES (FINLAND) - AMAZONS FROM OUTER SPACE
10. PHOTON TORPEDOES (USA) - COLD SWEAT
11. JUKE BOX (RUSSIA) - CAN'T STOP THAT ROCK
12. NITKIE (BELARUS) - SWEET LOVE ON MY MIND
13. KOMETY (POLAND) - LOVE DISEASE
14. ACID CONNECTION (JAPAN) - KILLER CREW
15. BATMOBILE (HOLLAND) - DEEP DOWN (Back From The Grave)