25 lat Jimmy Jazz Records... Co miesiąc okazja na tanie zakupy...
2014-04-02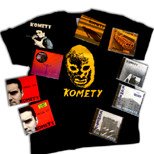 Nowy miesiąc, nowe pomysły, nowa oferta… Czujni badacze zawartości naszego serwisu wiedzą już, że rok 2014 to rok 25-lecia Jimmy Jazz Records.. Trochę czasu zeszło nam na kombinowaniu jak by tu jakimś szczególnym ukłonem w stronę naszych klientów i przyjaciół podkreślić okrągłą rocznicę naszego istnienia… Kilka pomniejszych ukłonów mamy już za sobą… te największe jeszcze przed nami, ale aby upływ czasu nie stanowił udręki a karuzela kręciła się jak trzeba przyszła pora na uknucie czegoś co regularnie będzie osładzać wam życie…..
Wykombinowaliśmy rzecz prostą i zarazem genialną w swej atrakcyjności dla potencjalne zainteresowanych… Poczynając od kwietnia co miesiąc na naszej stronie znajdować będziecie specjalny zestaw produktów oznaczony nazwą "OKAZJA MIESIĄCA"… co w nim będzie trudno przewidzieć, może być wszystko i jeszcze sami nie wiemy co wpadnie nam do głowy (w myśl twierdzenia genialnego prezesa Dyzmy: - Rząd zrobił co chciał, a co z tego będzie zobaczymy")… Pewne jednak jest, że każdy z zestawów stanowił będzie jedyną i niepowtarzalna okazję zakupu znajdujących się w nim produktów w cenie graniczącej z bajką… Aby podkreślić nasze 25 letnią walkę o lepszy świat do sprzedaży każdorazowo przeznaczamy jedynie 25 wspomnianych zestawów w specjalnej cenie… Ni mniej, ni więcej… tylko 25 sztuk kompletów… i tylko od was zależy jak szybko pula zestawów specjelnych się wyczerpie. Jeśli 25 zestawów sprzeda się przed końcem miesiąca to… powtórek nie będzie… Na kolejna podobna okazję trzeba będzie czekać… jesli się nie sprzeda to z końcem miesiąca znika...
Kto pierwszy ten lepszy!
"OKAZJA MIESIĄCA" startuje od kwietnia, każdego pierwszego dnia nowego miesiąca i potrwa do końca roku….

Na pierwszy ogień  (kwiecień) idzie zestaw wszystkich kompaktowych wydawnictw zespołu KOMETY zrealizowanych przez Jimmy Jazz Records. 9 płyt kompaktowych uzupełniamy koszulką zespołu z wzorem "Maska".
Cena zestawu w cenach obowiązujących w naszym sklepie to 277 złote… teraz 25 kompletów dostępnych za połowę ceny czyli za 139 zł.

Zamów ---> OKAZJA MIESIĄCA