17 lipca 2005 odszedł LAUREL AITKEN - Ojciec Chrzestny Muzyki Ska
2005-07-18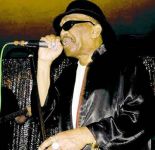 17 lipca 2005 r. o godzinie 8 rano w wyniku zawału serca zmarł Ojciec Chrzestny Muzyki Ska LAUREL AITKEN.

Urodzony 22 kwietnia 1927 roku na Kubie, w wieku 12 lat przeniósł się z rodzicami do Zachodniego Kingston na Jamajce. Rozpoczął swoją muzyczną karierę w latach 40-tych śpiewając utwory jazzowych, rhythm'n'bluesowych i bluesowych klasyków z czasem wzbogacając je elemantami soulu, calypso, mento i boogie.
Zaczął zdobywać popularność już w latach pięćdziesiątych często występując na deskach Glass Bucket Club, porywając publiczność swoim głosem, wykonaniem piosenek i zachowaniem na scenie. Jeszcze w latach 50-tych zaistniał rhythm'n'bluesowym singlem "Roll, Jordan Roll", potem był rewelacyjny "Little Sheila /Boogie in My Bones", będący pierwszym wydawnictwem rodzącej się wytwórni Island. Krążek przyniósł Aitkenowi sporą popularność i spędził na 1 miejscu jamajskich list przebojów 11 tygodni.

W 1960 roku Aitken przeniósł się do Anglii, gdzie miał olbrzymi udział w promowaniu jamajskich nagrań i zdobywającego sobie coraz większą popularność ska i rocksteady. Szybko stał się gwiazdą wielkiego formatu nagrywając m.in. dla wytwórni Blue Beat, Pama, EMI, Ska Beat, Nu Beat, Direct Records i Doctor Bird Records nagrywając wielkie przeboje w stylu: "Fire in Mi Wire", "Bartender", "Jesse James", "Landlord and Tenants", "It's Too Late" czy "Pussy Price". Od końca lat 60-tych Aitken stał się ulubieńcem brytyjskich Skinheadów, którzy w tamtych czasach w większości słuchali jamajskich rytmów, a Aitken stał się dla nich sztandarem wytwórni Blue Beat. Sympatię tą artysta odwzajemniał zresztą na każdym kroku, podkreślając, że Skinheadzi są jego najwierniejszą i ulubioną publicznością.

Kiedy pod koniec lat 70-tych na Wyspach wybuchła kolejna muzyczna rewolucja Ska wywołana przez wytwórnię Two Tone i zespoły pokroju Specials, Selecter, Beat, Madness, Bad Manners.... artyści tacy jak Aitken czy Prince Buster po raz kolejny stali się natchnieniem dla następnej generacji muzyków. Ich utwory coverowano raz po raz, a i oni sami nie zasypywali gruszek w popiele. Aitken odbył tournee koncertowe z modsowską grupą Secred Affair, nagrywał ze Special Beat i realizował własne nagrania.

Na przestrzeni lat 80 i 90-tych Laurel Aitken nagrywał wspólnie z cała masą wykonawców zafascynowanych jego dokonaniami i jego głosem. Można wśród nich wymienić m.in. Japan's Ska Flames, niemiecką grupę Busters czy amerykańską gwiazdę muzyki ska The Toasters. Artysta niemal do ostatnich chwil życia odbywał trasy z towarzyszeniem różnych zespołów, a z wieloma z nich zarejestrował płyty. Tak było w przypadku choćby Potato 5, Court Jesters Crew czy The Skatalites, z którymi Aitken w latach 60-tych nagrał wiele swoich kompozycji, a później obie gwiazdy Ska często spotykały się na scenie.

W latach 90-tych ne zmniejszyła się intensywność pojawiania się płyt Aitkena w czym celowały dwie europejskie wytwórnie: Grover z Niemiec (wydająca antologię starych nagrań artysty m.in. z okresu współpracy z wytwórniami Pama i Blue Beat) i Liquidator z Hiszpanii, której zasługą są nagrania Aitkena, wykonywane po hiszpańsku.

Po przebytym 2 lata temu zawale serca w ubiegłym roku Laurel Aitken borykał się z zapaleniem płuc co przerwało jego aktywność koncertową, której dowodem były od lat pojawiające się co jakiś czas albumy "live".

Pewne jest, że z odejściem Laurela Aitkena zakończył się jeden z najbarwniejszych okresów rozwoju muzyki ska i bez tego artysty wiele wydarzeń związanych ze scena ska i reggae na zawsze zatraciło swój koloryt.