10-calowa EP-ka Dr. Ring Dinga w rytmach calypso...
2013-04-03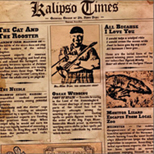 Jesienią 2012, ukazała się na CD i LP płyta "Piping Hot". A tymczasem z nadejściem kalendarzowej wiosny, Doktor nie zwalnia tempa i atakuje kolejnym wydawnictwem. Znalazły się na nim kawałki o mocno oldskulowych brzmieniach, a sam tytuł "Kalipso Times" zdradza wszystko… jest gorąco, jest tanecznie i jest wesoło!
Ten 10" winyl to znakomite uzupełnienie wydanego w listopadzie pełnowymiarowego albumu "Piping Hot". Tak się zresztą złożyło, że "Kalipso Times" miał swoją premierę 28.03.2013, czyli pod koniec marcowej trasy koncertowej Dr. Ring Ding Ska-Vaganza, promującej jesienne wydawnictwo. I na ostatnich koncertach w Poczdamie czy Zurychu, 10" winyl był już dostępny.
Na "Kalipso Times" znajdujemy 4 utwory. Na stronie A premierowy, mocno przebojowy "The Cat and the Rooster, a także "All Because I Love Sou" znany z krążka "Piping Hot". Na stronie B "Obeah Wedding" i The Needle", które już kiedyś pojawiły się razem na "siódemce" z Grover Records i na CD "Back and Forth". Ale na tym winylu, drugi z kawałków został lekko odmieniony nowym mixem.

Podczas pracy przy tym unikalnej EP-ce Dr. Ring Ding'a wsparli członkowie zespołów: Jazzkantine, The Scrucialists i Freedom Street Band.
Płytę wydała niezależna wytwórnia Ring Of Fire Records z Münster, rodzinnej miejscowości Dr. Ring Ding'a. Nakład to jedynie 500 kopii, na czarnym winylu o gramaturze 110. Okładka przedstawia pierwszą stronę oficjalnego organu prasowego Doktora, o wszystko mówiącym tytule "Kalipso Times".

Płyta dostepna jest juz w naszym sklepie.

ZAMÓW ---> 10" EP DR. RING DING - "Kalipso Times"