Winylowa "Lekcja historii" SEDESu...
2016-01-09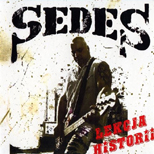 Winylowa wersja drugiej płyty z serii "Lekcja Historii", dokumentującej polski punk na przełomie lat 80/90, wrocławskiego zespołu SEDES ukazała się za sprawą wytwóni Lou & Rocked boys. Z racji ograniczeń czasowych nośnika winylowego dokonano selekcji utworów najbardziej reprezentatywnych dla zespołu w tamtym okresie. Takie szlagiery jak "Wszyscy pokutujemy" czy "Polityka" są od dekad punkowymi evergreenami, które wciąż odkrywają nowe pokolenia.
To pierwsza płyta winylowa w dyskografii zespołu, któremu nie dane było nagrać w latach 80-tych choćby singla, mimo niewątpliwej popularności wśród jarocińskiej publiczności.
Początki zespołu sięgają 1980 roku Kiedy to Młody, Kucharz, Kajtek i Kufel założyli zespół Punk rockowy o dźwięcznej nazwie SEDES. Początki były ciężkie jak zwykle to bywało na początku lat osiemdziesiątych choć po występach na wrocławskim muzycznym starcie w 1981 i 1982 roku zespół postrzegany był jako numer 1 na Dolnym Śląsku. Występy w Jarocinie w 1983 i 1984 roku potwierdziły przynależność Sedesu do ścisłej czołówki polskiego punk rocka. W 1991 roku Młody reaktywował Sedes w nowym składzie i w ciągu dwóch lat zrobił furorę wśród młodej punkowej publiczności nagrywając rok po roku "Wszyscy pokutujemy" i "K....jego mać" przy okazji objeżdżając wszystkie większe festiwale, koncerty halowe i spędy.

LP SEDES "Lekcja historii" zawiera 14 utworów kapeli wydanych na czarnym i przezroczystym winylu. Zapraszamy do sklepu.

Zamów ---> LP SEDES - "Lekcja historii"