Nadchodzi Punk Rock Gang...
2012-05-22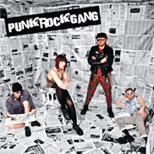 Na 30 maja 2012 firma Noise Annoys zapowiada premierę debiutanckiej płyty formacji Punk Rock Gang, zatem jeśli nic sie nie wydarzy, fani punk rocka będą mogli na poczatku czerwca poznać dokonania nowego zespołu na punkowej mapie Polski.

Punk Rock Gang powstał w wyniku połączenia sił muzyków znanych z takich formacji jak Sexbomba, Bulbulators/Pils i The End. Impulsem sprawczym dla powstania zespołu były rozmowy muzyków po koncertach i ich fascynacje muzyczne, które zaowocowały pomyslem na wspólne granie...
Sami zainteresowani jeszcze bardziej przybliżają wszytsko to co l;egło u podstaw powstania kapeli:
- Nasze zamiłowanie do szeroko pojętego punk rocka i wspólna wizja tego co chcemy grać znalazły ujście w dźwiękach nowego zespołu. Punk Rock Gang wziął swoją nazwę od tytułów piosenek Pils i Sexbomby. Idea wspólnego grania pojawiła się już na początku 2011 roku lecz dopiero w styczniu 2012 udało się nagrać piosenki na naszą pierwszą płytę.
Nasza muzyka jest wypadkową fascynacji takimi zespołami jak: Ramones, The Clash, The Damned, Die Toten Hosen, The Living End, UK Subs, Blondie, Sex Pistols.

Album zatytułowany po prostu "Punk Rock Gang" w formacie CD wydany zostanie w postaci digipaku, a kilkanaście dni po premierze CD będzie miała miejsce premiera albumu w fromacie winylowym.
Winyl wydany zostanie w kooperacji wytwórni Noise Annoys i Jimmy Jazz Records w nakładzie 300 sztuk i dostąpny będzie na dwóch kolorach plastiku (czarny - 200 szt. i czerwony - 100 szt.).
Szczegóły premiery winyla wkrótce, a poki co zapraszamy do zapoznania się z teledyskiem do utworu "Jeszcze POlska nie zginęła" promującego album.

Na karcie produktu w sklepie Jimmy Jazz Records juz do zamówienia debiutancki album Punk Rock Gang, tam także tracklista z płyty.

Zamów ---> CD PUNK ROCK GANG - "Punk Rock Gang"