Łatwy zwrot towaru
Kupuj i sprawdź spokojnie w domu. W ciągu 14 dni możesz odstąpić od umowy bez podania przyczyny.
Pokaż szczegóły
14 dni na odstąpienie od umowy
Najważniejsza jest Twoja satysfakcja z zakupów. Zamówione u nas produkty możesz zwrócić w ciągu 14 dni bez podania przyczyny.
Bez stresu

i obaw
Dzięki integracji naszego sklepu z tanimi zwrotami Poczty Polskiej kupujesz bez stresu i obaw, że zwrot zakupionego towaru będzie problematyczny.
Prosty kreator

zwrotów
Wszystkie zwroty w naszym sklepie obsługiwane są przez prosty kreator zwrotów, który daje możliwość odesłania do nas paczki zwrotnej.
KUP LUB ODBIERZ W NASZYM SKLEPIE
Możesz sprawdzić czy towar dostępny jest w sklepie od ręki lub zamówić go przez Internet i odebrać w sklepie.
Sprawdź dostępność
Debiutancki album Podwórkowych Chuliganów - "Powrót na ulicę", wydany pierwotnie w 1999 roku przez wytwórnię Rock'n'roller, a po zmianie nazwy firmy na Jimmy Jazz Records wznowiony ponownie w 2002 roku. Zawiera największe hity zespołu do dziś obecne w koncertowym secie Chuliganów takie jak: "Podwórkowi Chuligani", "Chłopcy z ferajny", "Rudeboy Janek", "Halina", "Nieznośny Brat", "Margaryna", "Ska, Ska, Ska" i wiele innych....


Ich pięcioro

Ska! Ska! Ska!

Pankpers

Hippies

Randka w ciemno

Dżordż Makowiec

Podwórkowi chuligani

Chłopcy z ferajny

W gabinecie dr. Martensa

Mój car

Halina

Załoga

Skampilation

Halina (radio version)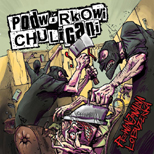 Podwórkowi Chuligani to firma znana na krajowej scenie punk i ska od wielu lat. Zespoł doskonale znany jest fanom za sprawą niezliczonej ilości hitów którymi naszpikowane są kolejne wydawnictwa grupy. Swój pierwszy album o tytule "Powrót na ulicę" Podwórkowi Chuligani nagrali w 1999 roku, a jego wydawcą była firma Jimmy Jazz Records podobnie jak w przypadku drugiego krążka o tytule" Ciężko jest", który pojawił się trzy lata później. Trzeci album o tytule "Na pohybel" ujrzał światło dzienne za sprawą Lou & Rocked Boys w roku 2010 po przerwie spowodowanej zawieszeniem działalności zespołu. Od tamtej pory Chuligani praktycznie bez przerwy obecni są na krajowej scenie i właśnie w 2017 roku obchodzą swoje 20-lecie co postanowili podkreślić kolejnym, tym razem samodzielnie wydanym, albumem....
Update Required
To play the media you will need to either update your browser to a recent version or update your
Flash plugin
.