Łatwy zwrot towaru
Kupuj i sprawdź spokojnie w domu. W ciągu 14 dni możesz odstąpić od umowy bez podania przyczyny.
Pokaż szczegóły
14 dni na odstąpienie od umowy
Najważniejsza jest Twoja satysfakcja z zakupów. Zamówione u nas produkty możesz zwrócić w ciągu 14 dni bez podania przyczyny.
Bez stresu

i obaw
Dzięki integracji naszego sklepu z tanimi zwrotami Poczty Polskiej kupujesz bez stresu i obaw, że zwrot zakupionego towaru będzie problematyczny.
Prosty kreator

zwrotów
Wszystkie zwroty w naszym sklepie obsługiwane są przez prosty kreator zwrotów, który daje możliwość odesłania do nas paczki zwrotnej.
KUP LUB ODBIERZ W NASZYM SKLEPIE
Możesz sprawdzić czy towar dostępny jest w sklepie od ręki lub zamówić go przez Internet i odebrać w sklepie.
Sprawdź dostępność
Po raz pierwszy na winylu drugi album Podwórkowych Chuliganów. Płyta wydana została na CD w 2002 roku i jest ostatnim albumem Chuliganów, który dotychczas nie ukazał się na winylu. LP "Ciężko jest" wytłoczony został w nakładzie 300 kopii, w dwóch kolorach winylu: czarnym (200 szt.) i czerwonym (100 szt.). Płyta posiada wkładkę z tekstami i zdjęciami z okresu nagrania płyty.




Nie ma potrzeby przekonywać do tego albumu nikogo kto zna poprzedni krążek Chuliganów. Na tej płycie ponownie znajdujemy doskonałą mieszankę ska i oi!/punka, ska-punkowy dynamit z wariackimi tekstami charakterystycznymi dla poczucia humoru płockiej załogi.
Także tym razem płyta aż roi się od przebojowych numerów, które idealnie nadają się do słuchania jak i do zabawy.
"Ciężko jest" w wersji kasetowej to 17 nowych utworów, w wersji CD uzupełnionych bonusami pochodzącymi z demo nagranego w 1998 roku, dzięki któremu pierwszy album Chuliganów trafił do katalogu Rock'n'rollera, oraz nagraniami koncertowymi zarejestrowanymi podczas występu zespołu w toruńskim klubie "Od Nowa", w grudniu 2000 roku. Kompakt zawiera łącznie 29 utworów.
Pozycja obowiązkowa ze względów repertuarowych jak i kronikarskich.
Intro

Tumska

Pomarańczowa miłość

Kanar Teodor

Prowokator

Alko-Ska

Plakaciarze

Ram Tam Tam

Telefon zaufania

Dżordż Makowiec

Oi! Armia Mazowsze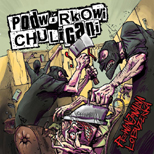 Podwórkowi Chuligani to firma znana na krajowej scenie punk i ska od wielu lat. Zespoł doskonale znany jest fanom za sprawą niezliczonej ilości hitów którymi naszpikowane są kolejne wydawnictwa grupy. Swój pierwszy album o tytule "Powrót na ulicę" Podwórkowi Chuligani nagrali w 1999 roku, a jego wydawcą była firma Jimmy Jazz Records podobnie jak w przypadku drugiego krążka o tytule" Ciężko jest", który pojawił się trzy lata później. Trzeci album o tytule "Na pohybel" ujrzał światło dzienne za sprawą Lou & Rocked Boys w roku 2010 po przerwie spowodowanej zawieszeniem działalności zespołu. Od tamtej pory Chuligani praktycznie bez przerwy obecni są na krajowej scenie i właśnie w 2017 roku obchodzą swoje 20-lecie co postanowili podkreślić kolejnym, tym razem samodzielnie wydanym, albumem....
Update Required
To play the media you will need to either update your browser to a recent version or update your
Flash plugin
.