Łatwy zwrot towaru
Kupuj i sprawdź spokojnie w domu. W ciągu 14 dni możesz odstąpić od umowy bez podania przyczyny.
Pokaż szczegóły
14 dni na odstąpienie od umowy
Najważniejsza jest Twoja satysfakcja z zakupów. Zamówione u nas produkty możesz zwrócić w ciągu 14 dni bez podania przyczyny.
Bez stresu

i obaw
Dzięki integracji naszego sklepu z tanimi zwrotami Poczty Polskiej kupujesz bez stresu i obaw, że zwrot zakupionego towaru będzie problematyczny.
Prosty kreator

zwrotów
Wszystkie zwroty w naszym sklepie obsługiwane są przez prosty kreator zwrotów, który daje możliwość odesłania do nas paczki zwrotnej.
KUP LUB ODBIERZ W NASZYM SKLEPIE
Możesz sprawdzić czy towar dostępny jest w sklepie od ręki lub zamówić go przez Internet i odebrać w sklepie.
Sprawdź dostępność
Po publikacji szeregu nieodpłatnych wydawnictw internetowych wynikających z realizacji międzynarodowych projektów, w kwietniu 2016 roku legendarny kolektyw Masala Soundsystem powraca z pierwszą "pełnoprawną" płytą od 8 lat – albumem "Ziemia Na Sprzedaż". Przynosi on wszystko, czym zespół zapisał się w pamięci odbiorców – etniczne instrumenty i melodie z różnych stron świata (Bart Pałyga), nowoczesną elektronikę (Praczas), społecznie zaangażowane teksty (Duże Pe) i punk-rockową energię – spinającą te teoretycznie nieprzystające elementy w spójną całość. Podobnie jak w wypadku poprzednich albumów, również na tym istotną rolę odgrywają zaproszeni goście, wśród których znajdziemy cenionych artystów z Polski, Słowacji, Turcji czy Węgier.

"Ziemia Na Sprzedaż" to doskonały muzyczny raport o (nienajlepszym) stanie współczesnego świata."


Born Again (feat ShataQS)

Zeitgeist (Jak Długo Jeszcze?)

Broń Masowego Rażenia

Boom (Of The Doom) (feat 3CK & Áron Szilágyi)

Metropolis (feat Mehmet Polat)

Kto Za To Wszystko Zapłaci?

Trans Asia Express

Czas Powiedzieć Nie

An Ode To System Error

NieDaSięTakŻyć (feat 3CK & Áron Szilágyi)

Been Around The (Sick, Sick) World

Alerta Antifascista

Wisdom Of Silenus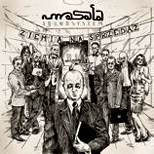 Bezsprzecznie najgłośniejszą premierą z ostatnich propozycji Anteny Krzyku jest wznowienie legendarnej EP-ki DEZERTERA "Ku przyszłości", o której możecie poczytać niżej, a którą osoby z odrobiną życiowego fartu mają możliwość jeszcze zamówić w naszym sklepie. Poza wspomnianym tytułem w ostatnim czasie Antena Krzyku wypuściła także kilka innych interesujących pozycji na winylach i CD.
Zapraszamy do naszego sklepu gdzie poza premierami i wznowieniami albumów takich wykonawców jak MASALA SOUNDSYSTEm, STARZY SINGERS, 19 WIOSEN, NATCHNIONY TRAKTOR, NIGHTCLUB FIRE czy QUEER RESOURCE CENTER znaleźć można nieco uzupełnień, które w ostatnim okresie znikły z naszego sklepu.
Wśród tytułów, które powróciły do sklepu polecamy m.in. wydawnictwa HAŃBY, PERU, BUZZ RODEO, PSYCHOCUKIER, ALLES, KINSKY, STUBS, INPALUMBIA, CALM THE FIRE i innych...
Update Required
To play the media you will need to either update your browser to a recent version or update your
Flash plugin
.