Łatwy zwrot towaru
Kupuj i sprawdź spokojnie w domu. W ciągu 14 dni możesz odstąpić od umowy bez podania przyczyny.
Pokaż szczegóły
14 dni na odstąpienie od umowy
Najważniejsza jest Twoja satysfakcja z zakupów. Zamówione u nas produkty możesz zwrócić w ciągu 14 dni bez podania przyczyny.
Bez stresu

i obaw
Dzięki integracji naszego sklepu z tanimi zwrotami Poczty Polskiej kupujesz bez stresu i obaw, że zwrot zakupionego towaru będzie problematyczny.
Prosty kreator

zwrotów
Wszystkie zwroty w naszym sklepie obsługiwane są przez prosty kreator zwrotów, który daje możliwość odesłania do nas paczki zwrotnej.
KUP LUB ODBIERZ W NASZYM SKLEPIE
Możesz sprawdzić czy towar dostępny jest w sklepie od ręki lub zamówić go przez Internet i odebrać w sklepie.
Sprawdź dostępność
INFORMACJA O PŁYCIE:
Żoliborz - Mokotów to trzeci i przedostatni album legendarnej Partii. Jego premiera odbyła się 7 maja 2001. Na albumie znalazły się tak znane przeboje jak choćby "30 dni i 30 nocy", który był obecny na Liście przebojów Trójki przez 18 tygodni. Na płycie znajdziemy także inne wielkie hity zespołu jak "Oskar Hell", "Hiszpański Elvis", "Światła miasta" czy tytułowy "Żoliborz Mokotów".
Oryginalny materiał płyty został zremasterowany w warszawskim studio Serakos. Pojawienie się krążka to kolejny etap wznawiania kompletnej dyskografii Partii zapoczątkowanego trzy lata temu albumem "Umrzeć jak James Dean - The Best of Partia".
Album w wersji CD i LP ukaże się 9 listopada 2013 i tradycyjnie firma Jimmy Jazz Records przygotowała specjalną edycję limitowanego plastiku. Tym razem obiektem westchnień fanów będą winylowe krążki w kolorze pomarańczowym. Całość winylowego nakładu płyty to 320 sztuk, w tym 110 sztuk winyli kolorowych.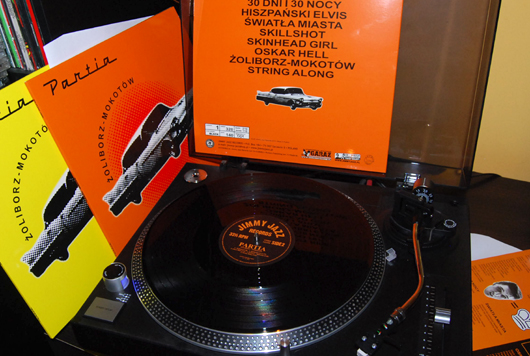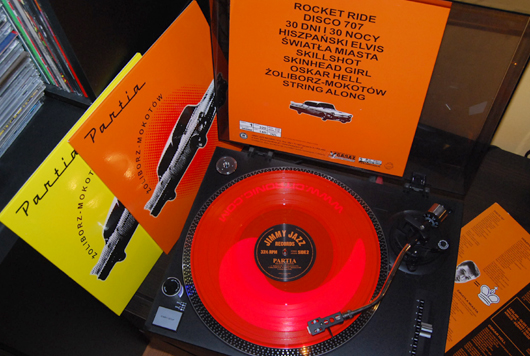 O PARTII:
Partia, działająca w latach 1993 - 2003 w chwili obecnej oceniana jest nie inaczej jak tylko w kategoriach kultowych. Fani grupy nie mają co do tego wątpliwości, a ci którzy nie mieli szczęścia i okazji zetknąć się z dokonaniami warszawiaków w okresie ich aktywności,  mogą nadrobić zaległości.
Swoją pozycję w historii polskiej muzyki zespół zawdzięcza w równej mierze doskonałemu repertuarowi opartemu o nowoczesne, charakterystyczne brzmienie powstałe w oparciu o swing, rockabilly, bigbit i punk oraz polską tradycję pop-kulturową lat 50, 60 i 70-tych.
To swoiste połączenie stworzyło muzyczny wizerunek Partii, który nawet po latach wydaje się być nie do podrobienia, a jego wizualnym uzupełnieniem jest stylowy image grupy.
Charakterystyczne teksty lidera zespołu Lesława, poza dużą dawka osobistych refleksji świadomie nawiązują do miejsc, w których na równi kształtowała się muzyczna i czysto ludzka świadomość muzyków. Nie przez przypadek jeden z albumów grupy nosi tytuł "Żoliborz-Mokotów" i nie przez przypadek Partia uznawana była za zespół na wskroś warszawski, co nie przeszkadzało zaistnieć jej szerzej .
Sceniczna aktywność Partii stała się inspirującym impulsem dla wielu artystów krajowej sceny muzycznej. Dowodem tego jest wydany w 2005 przez Jimmy Jazz Records album "Tribute to Partia", na którym swój muzyczny hołd dokonaniom kultowej formacji składa 24 wykonawców reprezentujących różne style muzyczne, a wśród nich m.in. The Analogs, Pustki, Muchy, Mitch & Mitch, Vespa, Happysad, Krzysztof Warga, Beri Beri, Wersja de Lux i wielu innych…
Ostatni koncert Partii odbył się 11 października 2003 roku w warszawskim klubie Galeria Off. Muzycy swoją artystyczną drogę do dzisiaj kontynuują w równie intrygujących Kometach, na koncertach sięgając po dokonania swojej poprzedniej formacji i wywołujące wśród fanów te same pozytywne reakcja jak przed laty. Dowodzi to niezbicie, że fenomen Partii pozostaje niepodważalny, a jej nagrania dziś i w przyszłości stanowić będą wskazówkę dla wielu artystów szukających inspiracji na krajowej scenie.
Wydany w ubiegłym roku przez Jimmy Jazz Records album "Umrzeć jak James Dean – The Besto of Partia" był podsumowaniem dorobku, którego Partia nie doczekała się przed laty, a jednocześnie początkiem zapowiedzianych reedycji kultowych płyt zespołu, na które zęby ostrza sobie wszyscy fani sprzed lat, a także ci, których fenomen grupy docenili dzięki "The Best of Partia".
Rocket ride

Światła miasta

Skillshot

Żoliborz - Mokotów

String along
Update Required
To play the media you will need to either update your browser to a recent version or update your
Flash plugin
.