Łatwy zwrot towaru
Kupuj i sprawdź spokojnie w domu. W ciągu 14 dni możesz odstąpić od umowy bez podania przyczyny.
Pokaż szczegóły
14 dni na odstąpienie od umowy
Najważniejsza jest Twoja satysfakcja z zakupów. Zamówione u nas produkty możesz zwrócić w ciągu 14 dni bez podania przyczyny.
Bez stresu

i obaw
Dzięki integracji naszego sklepu z tanimi zwrotami Poczty Polskiej kupujesz bez stresu i obaw, że zwrot zakupionego towaru będzie problematyczny.
Prosty kreator

zwrotów
Wszystkie zwroty w naszym sklepie obsługiwane są przez prosty kreator zwrotów, który daje możliwość odesłania do nas paczki zwrotnej.
KUP LUB ODBIERZ W NASZYM SKLEPIE
Możesz sprawdzić czy towar dostępny jest w sklepie od ręki lub zamówić go przez Internet i odebrać w sklepie.
Sprawdź dostępność
Gdy na początku lat 80-tych XX polską sceną rockową wstrząsnął boom kapel punkowych, jedną z najbardziej wyrazistych, a zarazem najbardziej cenionych formacji nowego rocka stała się - pochodząca z Miastka, założona w 1981 roku - grupa o nazwie WYIDEALIZOWANA CIEMNOŚĆ, która szybko zapadła w pamięć wszystkich obserwatorów muzycznej rebelii jako WC.

Już w 1982 roku WC zostało laureatem festiwalu "Open Rock" w Krakowie, po czym zgrało na Festiwalu w Jarocinie zajmując siódme miejsce w plebicycie publiczności. Ponownie do Jarocina zepół wrócił w 1994 roku wystepując podczas koncertu "Łysiny i czuby"... Niezmiennie będąc w czołówce punkowej sceny, przyciągał swoim nieszablonowym repertuarem punkową publiczność aby wreszcie w 1983 po historycznym "koncercie pożegnalnym" z udziałem... sił porządkowych ludowej Ojczyzny zawiesić działalność nie doczekując się żadnych wydawnictw.
Na szczęście grupa dość szybko powróciła, choć jej aktywność przybrała formę bardziej incydentalną.
W 1984 roku w Domu Kultury w Miastku zespół zarejestrował materiał, który kilka lat później stał się wydawnictwem kasetowym o tytule "Archiwum" wydanym przez Studio Złota Skała, a wcześniej kopiowany był w muzycznym podziemiu przez setki i tysiące fanów.
Po kolejnym pożegnaniu i zejściu ze sceny WC powróciło aby odbyć serię koncertów i zarejestrować album pt. "Wyciągając rękę po...", który wydała firma Silver-ton i który w opinii samych muzyków nie był spełnieniem ich marzeń. WC ponownie znikło ze sceny...

Przełomowym momentem w karierze grupy stał się rok 2005, kiedy to firma Jimmy Jazz Records oddała w ręce fanów, wydany na CD, historyczny materiał pt. "Archiwum" z 1984 roku, uzupełniony nagraniami koncertowymi.
Wydanie płyty stało się impulsem do kolejnego powrotu na scenę... który tym razem zaowocował kolejnymi nagraniami publikowanymi na składankach, seriami koncertów i przygotowywaniem nowego materiału studyjnego...
W tym czasie WC stało się zespołem szczecińskim bo jak się okazało lider i załozyciel zespołu - Jaromir Krajewski - od lat mieszka w Grodzie Gryfa, a grupa odrodziła się wsparta m.in przez muzyków na codzień udzielających sie w innej szczecińskiej formacji - WŁOCHATY. Od tej chwili aktywnośc zespołu nie maleje, a grupa regularnie pojawia się na koncertach w całej Polsce.

Album "Jurassic Punk" wydany w 2008 roku (Jimmy Jazz Records) zaprezentował nowy, szalony, punkowy materiał, w którym WC pokazało, że nadal jest w czołówce polskiej sceny niezależnej, nadal ma wiele do powiedzenia i jest w stanie potrząsnąć najbardziej skostniałymi po(d)stawami. Energia powstałych współcześnie utworów w połączeniu z melodyjnością znaną sprzed lat, charakterystycznym wokalem i intrygującymi tekstami daje piorunujący efekt, który nie tylko fanów zespołu rozpala od pierwszych dźwięków. Pośród powstałych współczesnie kompozycji muzycy umieścili kilka muzycznych niespodzianek nawiązujących do przeszłości co tylko jeszcze bardziej wyostrzyło smak tego albumu.

Listopad 2012 to premiera nowej płyty legendarnej grupy związanej z Jimmy Jazz Records. Premierowy album nosi tytuł "Punk jest niemodny" i poza materiałem audio z porcją studyjnych kompozycji zawiera dodatkową płytę DVD z koncertem zarejestrowanym podczas wystepu WC na festiwalu "Rock na Bagnie" w lipcu 2010 roku.
14 utworów zawarych na płycie pokazuje dużą dbałośc muzyków o szczegóły i z pewnością przywoła u wielu słuchaczy ducha starych nagrań WC podanych w jakości odpowiadającej wymaganiom wspłczesności. Na nowym krążku zespół brzmieniowo nawiązał do swoich najstarszych nagrań nie rezygnując z energii jaką prezentuje na koncertach, nie ucieka także od melodyjności nadając swoim nowym kompozycjom cechy klasycznych przebojów. Najnowsza odsłona WC to tradycja wymieszana z teraźniejszością, to idealne połączenie starego punk rocka, hardcore/punka i rock'n'rolla. Zespoł podczas nagrań tradycyjnie sięgnął po kilka swoich starych kompozycji uzupełniając je nowymi, pokusił się także o własną interpretację big-beatowego przeboju "Sobota to mój dzień" wykonywanego niegdyś przez Karin Stanek.
Chociaż muzycy WC tytułem płyty sugerują, że "Punk jest niemodny" to jednak słuchając nowych nagrań trudno uwierzyć, że punkowa publiczność umiejąca docenić muzyczne połączenie przeszłości i teraźniejszości mogłaby im się oprzeć.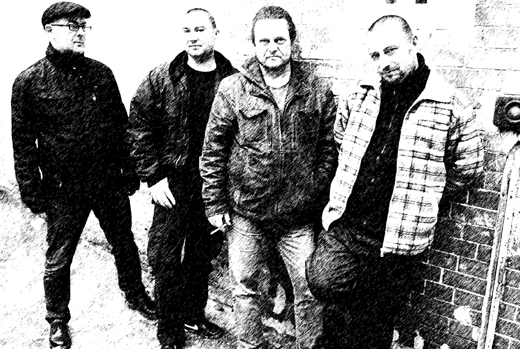 CD - Radykalny

CD - Prawda jedyna

CD - Wróg publiczny nr 1

CD - Fanatyk

CD - Sobota to mój dzień

CD - Rock'n'roll

CD - Zdyscyplinowany człowiek

CD - Outro

DVD - Łazienka

DVD - Wykluczony

DVD - We śnie

DVD - Starsza generacja

DVD - Old Punks Never Die

DVD - Prezydent

DVD - Puste miejsce

DVD - Ramones

DVD - Jeszcze jedna rewolucja

DVD - Zagłada

DVD - Pozycja

DVD - Regulamin

DVD - Nie chcę jeszcze umierać

DVD - Juz idziemy spać

DVD - Masturbacja
Update Required
To play the media you will need to either update your browser to a recent version or update your
Flash plugin
.