Łatwy zwrot towaru
Kupuj i sprawdź spokojnie w domu. W ciągu 14 dni możesz odstąpić od umowy bez podania przyczyny.
Pokaż szczegóły
14 dni na odstąpienie od umowy
Najważniejsza jest Twoja satysfakcja z zakupów. Zamówione u nas produkty możesz zwrócić w ciągu 14 dni bez podania przyczyny.
Bez stresu

i obaw
Dzięki integracji naszego sklepu z tanimi zwrotami Poczty Polskiej kupujesz bez stresu i obaw, że zwrot zakupionego towaru będzie problematyczny.
Prosty kreator

zwrotów
Wszystkie zwroty w naszym sklepie obsługiwane są przez prosty kreator zwrotów, który daje możliwość odesłania do nas paczki zwrotnej.
KUP LUB ODBIERZ W NASZYM SKLEPIE
Możesz sprawdzić czy towar dostępny jest w sklepie od ręki lub zamówić go przez Internet i odebrać w sklepie.
Sprawdź dostępność
The Apers rozpoczęli działalność w 1996 roku jako trio z przedmieść Rotterdamu w Holandii. Kevin i Marien poznali się w liceum, Ivo mieszkał w pobliskim miasteczku. Zaczęli koncertować po Holandii. W 2000 roku do zespołu dołączył drugi gitarzysta Jerry Hormone. Jednak po 5 latach postanowił odejść, więc jego miejsce zajął Kelvin Centerfold.
Zespół znany jest z energetycznego pop-punkowego repertuaru i często porównywany do Screeching Weasel, nie tylko ze względu na zasmarkany wokal frontmana Kevina Apera, przypominający Bena Weasela. The Apes zagrali około 700 koncertów w całej Europie i USA.
"The Buzz Electric" to ich drugi album, wznowiony z okazji Record Store Day 2023 na kolorowym winylu.





Here To Stay

Brand New Day

Almost Summer

Lillian

I Can Not Live My Life Without You

Won't Be The One

Please Don't Change

Love Me Touch Me Feel Me

Play The Leading Part

Too Many Backpacks At The Show

You're A Star (You Will Shine Again Some Day)

No One Is Getting Out Here Alive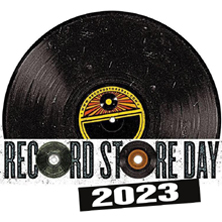 22 kwietnia na całym świecie obchodzono Record Store Day, święto stacjonarnych sklepów muzycznych. Nasz sklep stacjonarny również oferował pule tegorocznych winylowych tytułów wydanych z tej okazji.
Wszystkim, którzy nas odwiedzili e sobotę dziękujemy za spotkanie i zapraszamy za rok.... Od godziny 18.00 w niedzielę 23 kwietnia, te tytuły, które zostały po sobotnim święcie, dostępne są także w naszym sklepie internetowym. Nie zostało tego zbyt wiele ale coś tam jeszcze jest... zatem pojawia się ostatnia okazja aby zaopatrzyć się w kilka interesujących pozycji.
Wszystkich, którzy zainteresowani są ofertą płyt RSD z tego roku i ubiegłych lat zapraszamy do naszego sklepu, do działu....

Update Required
To play the media you will need to either update your browser to a recent version or update your
Flash plugin
.