Łatwy zwrot towaru
Kupuj i sprawdź spokojnie w domu. W ciągu 14 dni możesz odstąpić od umowy bez podania przyczyny.
Pokaż szczegóły
14 dni na odstąpienie od umowy
Najważniejsza jest Twoja satysfakcja z zakupów. Zamówione u nas produkty możesz zwrócić w ciągu 14 dni bez podania przyczyny.
Bez stresu

i obaw
Dzięki integracji naszego sklepu z tanimi zwrotami Poczty Polskiej kupujesz bez stresu i obaw, że zwrot zakupionego towaru będzie problematyczny.
Prosty kreator

zwrotów
Wszystkie zwroty w naszym sklepie obsługiwane są przez prosty kreator zwrotów, który daje możliwość odesłania do nas paczki zwrotnej.
KUP LUB ODBIERZ W NASZYM SKLEPIE
Możesz sprawdzić czy towar dostępny jest w sklepie od ręki lub zamówić go przez Internet i odebrać w sklepie.
Sprawdź dostępność
W pełni zremasterowana reedycja debiutanckiego albumu Jingo De Lunch, jednego z niekwestionowanych klasyków europejskiego hardcore punka lat 80. Oryginalnie wydany przez niemiecką wytwórnię We Bite, w 1987 roku, ten klasyk inspirowany metal-hc crossover z kobiecym wokalem, nadal brzmi tak spójnie i agresywnie, jak 35 lat temu. Ta pierwsza reedycja winylowa, wydana w pełnej współpracy z oryginalnymi członkami zespołu, jest dostępna w limitowanej kolorystyce, z paskiem OBI, plakatem i dwustronną repliką oryginalnej wkładki. Remaster 2023, autorstwa Danilo Silvestriego, wykonano w studiach Green Mountain Audio w Rzymie, we Włoszech. Limitowane do 500 kopii tylko na pomarańczowym winylu!


Lies

Utopia

Peace Of Mind

Jingo

Illusions

Perpetuum Mobile

Fate

Scratchings

Scarecrow

What You See

Thirteen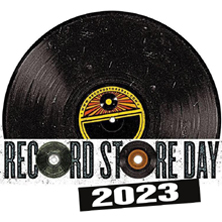 22 kwietnia na całym świecie obchodzono Record Store Day, święto stacjonarnych sklepów muzycznych. Nasz sklep stacjonarny również oferował pule tegorocznych winylowych tytułów wydanych z tej okazji.
Wszystkim, którzy nas odwiedzili e sobotę dziękujemy za spotkanie i zapraszamy za rok.... Od godziny 18.00 w niedzielę 23 kwietnia, te tytuły, które zostały po sobotnim święcie, dostępne są także w naszym sklepie internetowym. Nie zostało tego zbyt wiele ale coś tam jeszcze jest... zatem pojawia się ostatnia okazja aby zaopatrzyć się w kilka interesujących pozycji.
Wszystkich, którzy zainteresowani są ofertą płyt RSD z tego roku i ubiegłych lat zapraszamy do naszego sklepu, do działu....

Update Required
To play the media you will need to either update your browser to a recent version or update your
Flash plugin
.