Łatwy zwrot towaru
Kupuj i sprawdź spokojnie w domu. W ciągu 14 dni możesz odstąpić od umowy bez podania przyczyny.
Pokaż szczegóły
14 dni na odstąpienie od umowy
Najważniejsza jest Twoja satysfakcja z zakupów. Zamówione u nas produkty możesz zwrócić w ciągu 14 dni bez podania przyczyny.
Bez stresu

i obaw
Dzięki integracji naszego sklepu z tanimi zwrotami Poczty Polskiej kupujesz bez stresu i obaw, że zwrot zakupionego towaru będzie problematyczny.
Prosty kreator

zwrotów
Wszystkie zwroty w naszym sklepie obsługiwane są przez prosty kreator zwrotów, który daje możliwość odesłania do nas paczki zwrotnej.
25 minut muzyki Sisters Of Mercy na limitowanej płycie, zawierającej 5 kompozycji, wydanych pierwotnie w 1983 roku przez wytwórnię Merciful Release.
Płyta wydana z okazji Record Store Day 2023, w 40. rocznice ukazania się mini-albumu "The Reptile House EP", który w wersji winylowej wyprzedany jest od wielu lat a wznawiany był tylko raz, w 1989 roku w Holandii.
"The Reptile House EP" nagrana została w oryginalnym składzie Sisters Of Mercy: Andrew Eldritch (wokal), Craig Adams (bas), Gary Marx (gitara), Ben Gunn (gitara) i Doktor Avalanche (perkusja).
Płyta wytłoczona na kolorowym winylu (Grey Smokey) o gramaturze 180, z dołączonym plakatem.





Kiss The Carpet

Lights

Valentine

Fix

Burn

Kiss The Carpet (Reprise)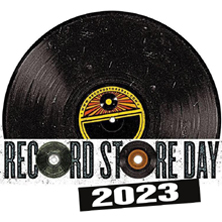 22 kwietnia na całym świecie obchodzono Record Store Day, święto stacjonarnych sklepów muzycznych. Nasz sklep stacjonarny również oferował pule tegorocznych winylowych tytułów wydanych z tej okazji.
Wszystkim, którzy nas odwiedzili e sobotę dziękujemy za spotkanie i zapraszamy za rok.... Od godziny 18.00 w niedzielę 23 kwietnia, te tytuły, które zostały po sobotnim święcie, dostępne są także w naszym sklepie internetowym. Nie zostało tego zbyt wiele ale coś tam jeszcze jest... zatem pojawia się ostatnia okazja aby zaopatrzyć się w kilka interesujących pozycji.
Wszystkich, którzy zainteresowani są ofertą płyt RSD z tego roku i ubiegłych lat zapraszamy do naszego sklepu, do działu....

Update Required
To play the media you will need to either update your browser to a recent version or update your
Flash plugin
.