Łatwy zwrot towaru
Kupuj i sprawdź spokojnie w domu. W ciągu 14 dni możesz odstąpić od umowy bez podania przyczyny.
Pokaż szczegóły
14 dni na odstąpienie od umowy
Najważniejsza jest Twoja satysfakcja z zakupów. Zamówione u nas produkty możesz zwrócić w ciągu 14 dni bez podania przyczyny.
Bez stresu

i obaw
Dzięki integracji naszego sklepu z tanimi zwrotami Poczty Polskiej kupujesz bez stresu i obaw, że zwrot zakupionego towaru będzie problematyczny.
Prosty kreator

zwrotów
Wszystkie zwroty w naszym sklepie obsługiwane są przez prosty kreator zwrotów, który daje możliwość odesłania do nas paczki zwrotnej.
KUP LUB ODBIERZ W NASZYM SKLEPIE
Możesz sprawdzić czy towar dostępny jest w sklepie od ręki lub zamówić go przez Internet i odebrać w sklepie.
Sprawdź dostępność
Frontman MJ Howells i jego brat perkusista Peter Purrfect założyli glam-rockowy zespół Rockslide w Manchesterze w połowie lat 70. z basistą Wispą Cundallem i gitarzystą Vicem Longiem, ale zmienili stylistykę po obejrzeniu Sex Pistols. Longa zastąpił gitarzysta Gusa Gangrene, a po przeprowadzce do Londynu ich nowa tożsamość była czysto punkowa. Debiutancka EP-ka "Temptations Of A White Collar Worker" sprzedała się w 14 000 egzemplarzy w krótkim czasie, torując drogę wybuchowemu albumowi "Further Temptations" z 1977 roku, jedynemu długogrającemu wydawnictwu, które zarejestrowali przed rozpadem w połowie lat 80. Zuchwały, śmiały, wyzywający i nonkonformistyczny "Further Temptations" kopie tyłki! Album został wznowiony przez wytwórnię Radiation Records, na kolorowym winylu, z okazji Record Store Day 2023.




Persecution Complex

Bone Idol

Movement

Be My Baby

Corgi Crap

Sad So Sad

The Change

Lookalikes

Underdog

No More Time

City Drones

Just Want To Be Myself

Lift Off The Bans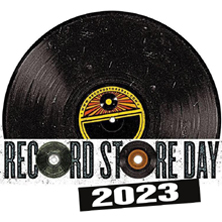 22 kwietnia na całym świecie obchodzono Record Store Day, święto stacjonarnych sklepów muzycznych. Nasz sklep stacjonarny również oferował pule tegorocznych winylowych tytułów wydanych z tej okazji.
Wszystkim, którzy nas odwiedzili e sobotę dziękujemy za spotkanie i zapraszamy za rok.... Od godziny 18.00 w niedzielę 23 kwietnia, te tytuły, które zostały po sobotnim święcie, dostępne są także w naszym sklepie internetowym. Nie zostało tego zbyt wiele ale coś tam jeszcze jest... zatem pojawia się ostatnia okazja aby zaopatrzyć się w kilka interesujących pozycji.
Wszystkich, którzy zainteresowani są ofertą płyt RSD z tego roku i ubiegłych lat zapraszamy do naszego sklepu, do działu....

Update Required
To play the media you will need to either update your browser to a recent version or update your
Flash plugin
.