Łatwy zwrot towaru
Kupuj i sprawdź spokojnie w domu. W ciągu 14 dni możesz odstąpić od umowy bez podania przyczyny.
Pokaż szczegóły
14 dni na odstąpienie od umowy
Najważniejsza jest Twoja satysfakcja z zakupów. Zamówione u nas produkty możesz zwrócić w ciągu 14 dni bez podania przyczyny.
Bez stresu

i obaw
Dzięki integracji naszego sklepu z tanimi zwrotami Poczty Polskiej kupujesz bez stresu i obaw, że zwrot zakupionego towaru będzie problematyczny.
Prosty kreator

zwrotów
Wszystkie zwroty w naszym sklepie obsługiwane są przez prosty kreator zwrotów, który daje możliwość odesłania do nas paczki zwrotnej.
KUP LUB ODBIERZ W NASZYM SKLEPIE
Możesz sprawdzić czy towar dostępny jest w sklepie od ręki lub zamówić go przez Internet i odebrać w sklepie.
Sprawdź dostępność
Winylowa reedycja albumu Bad Brains wydanego oryginalnie w 1996 roku na CD i LP jednak zawierającego nagrania z 1979 roku, powstałe jeszcze przed nagraniem przez Bad Brains pierwszego oficjalnego albumu. "Black Dots" to jedna z najwcześniejszych sesji studyjnych zespołu zwierająca wczesne wersje kilku piosenek, które zostały później nagrane na dwa pierwsze albumy studyjne Bad Brains, a także utwory, które nigdy wcześniej nie zostały wydane w żadnej wersji. Zawartość albumu często określana jest jako "Zientara Sessions" od nazwiska realizatora materiału Dona Zientary, znanego z realizacji wielu albumów kapel związanych z waszyngtońską wytwórnią Dischord Records, który odpowiadał na powstanie nagrań w Inner Ear Studios, w Arlington, w Wirginii.
Nagrania odzyskane ze studia Arlington zmiksowano w 1996 roku w studio Applehead Recording, w Woodstock (NY).





Don't Need It

At The Atlantis

Pay To Cum

Supertouch/Shitfit

Regulator

You're A Migraine

Don't Bother Me

Banned In D.C

Why'd You Have To Go?

The Man Won't Annoy Ya

Redbone In The City

Black Dots

How Low Can A Punk Get?

Just Another Damn Song

Attitude

Send You No Flowers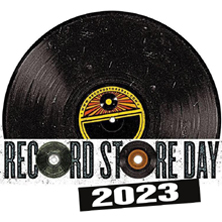 22 kwietnia na całym świecie obchodzono Record Store Day, święto stacjonarnych sklepów muzycznych. Nasz sklep stacjonarny również oferował pule tegorocznych winylowych tytułów wydanych z tej okazji.
Wszystkim, którzy nas odwiedzili e sobotę dziękujemy za spotkanie i zapraszamy za rok.... Od godziny 18.00 w niedzielę 23 kwietnia, te tytuły, które zostały po sobotnim święcie, dostępne są także w naszym sklepie internetowym. Nie zostało tego zbyt wiele ale coś tam jeszcze jest... zatem pojawia się ostatnia okazja aby zaopatrzyć się w kilka interesujących pozycji.
Wszystkich, którzy zainteresowani są ofertą płyt RSD z tego roku i ubiegłych lat zapraszamy do naszego sklepu, do działu....

Update Required
To play the media you will need to either update your browser to a recent version or update your
Flash plugin
.