Łatwy zwrot towaru
Kupuj i sprawdź spokojnie w domu. W ciągu 14 dni możesz odstąpić od umowy bez podania przyczyny.
Pokaż szczegóły
14 dni na odstąpienie od umowy
Najważniejsza jest Twoja satysfakcja z zakupów. Zamówione u nas produkty możesz zwrócić w ciągu 14 dni bez podania przyczyny.
Bez stresu

i obaw
Dzięki integracji naszego sklepu z tanimi zwrotami Poczty Polskiej kupujesz bez stresu i obaw, że zwrot zakupionego towaru będzie problematyczny.
Prosty kreator

zwrotów
Wszystkie zwroty w naszym sklepie obsługiwane są przez prosty kreator zwrotów, który daje możliwość odesłania do nas paczki zwrotnej.
KUP LUB ODBIERZ W NASZYM SKLEPIE
Możesz sprawdzić czy towar dostępny jest w sklepie od ręki lub zamówić go przez Internet i odebrać w sklepie.
Sprawdź dostępność
Gdy ktoś mówi o zespole złożonym z dzieciaków zapewne od razu pojawiają się skojarzenia z Arką Noego albo Fasolkami, ich słodkimi piosenkami o Puszku Okruszku, biedronkach, religii, zabawie czy Panu Tik-Taku... Tym razem nic z tego!
LOCKDOWN to hardcore/punkowy zespół dzieciaków grających melodyjną, a jednocześnie mocną i pełną zaangażowania, oraz niesamowitej energii, muzykę płynącą prosto z młodych serc i głów. Lockdown to dowód na to, że punk rock mimo tego, że narodził się kilkadziesiąt lat temu może być ciągle atrakcyjny dla młodej generacji zainspirowanej takimi zespołami jak Rise Against, Sum 41, Pennywise, Fever 333, Ignite, H2O czy polskim CF98.
Lockdown to trójka dzieciaków w wieku 14 (wokal i gitara) i 10 lat (perkusja), wspieranych przez dorosłego basistę, mających profesjonalne podejście do muzyki, niezwykle energetycznej i opatrzonej ich własnymi tekstami, zaangażowanymi społecznie i politycznie. Chcemy wciągać młodych ludzi w muzykę hc/punk, a wyciągać ich z ekranów telefonów i komputerów – deklarują młodzi muzycy zespołu - aby zaczęli patrzeć i zastanawiać się nad tym, co dzieje się na świecie i co mogą zmienić na lepsze dla planety, zwierząt i innych ludzi. We are the change!!!!


We Are The Change

Push Back

Nigdy

Don't Care

Pokolenie

Hate

Climate Fighter

Time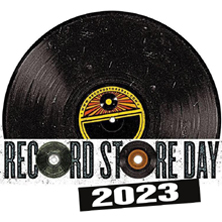 22 kwietnia na całym świecie obchodzono Record Store Day, święto stacjonarnych sklepów muzycznych. Nasz sklep stacjonarny również oferował pule tegorocznych winylowych tytułów wydanych z tej okazji.
Wszystkim, którzy nas odwiedzili e sobotę dziękujemy za spotkanie i zapraszamy za rok.... Od godziny 18.00 w niedzielę 23 kwietnia, te tytuły, które zostały po sobotnim święcie, dostępne są także w naszym sklepie internetowym. Nie zostało tego zbyt wiele ale coś tam jeszcze jest... zatem pojawia się ostatnia okazja aby zaopatrzyć się w kilka interesujących pozycji.
Wszystkich, którzy zainteresowani są ofertą płyt RSD z tego roku i ubiegłych lat zapraszamy do naszego sklepu, do działu....

Update Required
To play the media you will need to either update your browser to a recent version or update your
Flash plugin
.