Łatwy zwrot towaru
Kupuj i sprawdź spokojnie w domu. W ciągu 14 dni możesz odstąpić od umowy bez podania przyczyny.
Pokaż szczegóły
14 dni na odstąpienie od umowy
Najważniejsza jest Twoja satysfakcja z zakupów. Zamówione u nas produkty możesz zwrócić w ciągu 14 dni bez podania przyczyny.
Bez stresu

i obaw
Dzięki integracji naszego sklepu z tanimi zwrotami Poczty Polskiej kupujesz bez stresu i obaw, że zwrot zakupionego towaru będzie problematyczny.
Prosty kreator

zwrotów
Wszystkie zwroty w naszym sklepie obsługiwane są przez prosty kreator zwrotów, który daje możliwość odesłania do nas paczki zwrotnej.
KUP LUB ODBIERZ W NASZYM SKLEPIE
Możesz sprawdzić czy towar dostępny jest w sklepie od ręki lub zamówić go przez Internet i odebrać w sklepie.
Sprawdź dostępność
6 lat po wydaniu albumu "Nuda" Ukraina, będąca przed laty jednym z zespołów kojarzonych z Ustrzycką Sceną Punkową przypomniała się nową płytą. 26 listopada 2021 roku, światło dzienne ujrzał album o tytule "Tempus Transit", na którym muzycy zaprezentowali 12 nowych utworów, a wśród nich na nowo nagrany, swój stary kawałek "Ucieczka" oraz własną wersję hitowego utworu KSU pt. "Moje oczy". W tym ostatnim nagraniu na płycie Ukrainy gościnnie pojawił się nie kto inny jak Siczka, wieloletni lider KSU.

Pora zatem aby nowy album Ukrainy pojawił się także w postaci winylowej. Płyta wytłoczona w nakładzie 200 kopii ukaże się 28 lutego 2023 roku. Cały nakład na czerwonym winylu o gramaturze 180 g.

Album "Tempus Transit" zrealizowano pod okiem Pawła Kluczewskiego w Studio Rapid Fire, w podkrakowskich Węgrzcach, a autorem grafik wykorzystanych na okładce jest Jacek Gołąbek.





UKRAINA powstała jako efekt spotkania muzyków dwóch punkowych formacji działających w Brzozowie w latach 1979-82, zespołów Bluff i CKM i znana jest zapewne fanom krajowego punk rocka m. in. ze swojego koncertu na festiwalu w Jarocinie w 1985 roku w czasach gdy był on zdominowany przez rozwijającą się prężnie krajową scenę punk.

Zespół aktywnie działał w latach 80. po czym na długi czas zawiesił działalność pozostając jednak w pamięci fanów. Po reaktywacji w roku 1992 funkcjonował często zmieniając skład jednak niezmiennie proponując fanom swoją wizję punk rocka opartego na sprawdzonych wzorcach charakterystycznych dla polskiej sceny punk z lat 80-tych ubiegłego wieku.

Mimo tego, że część muzyków wyjechała zagranicę i członków zespołu zaczęła dzielić spora odległość w roku 2013 (na 30-lecie istnienia) Ukraina weszła do studia aby nagrać swoje najbardziej znane utwory sprzed lat. Niestety efekt tej sesji stał się ofiarą wewnętrznych tarć weteranów zespołu z nowymi muzykami i nigdy nie wyszedł poza fazę rejestracji dźwięku. Zespół nie złożył broni i na początku roku 2015 sesja nagraniowa powtórzona została z powodzeniem, bijąc na głowę to co powstało wcześniej.

Efektem ponownej wizyty w studio jest album zatytułowany "Nuda" zawierający utwory pochodzące z początkowego okresu działalności UKRAINY. Powstały one oryginalnie w latach 1980-1985, a współczesne możliwości rejestracji dodały im mocy i melodyjności, ujawniając niejednokrotnie prawdziwe punkowe hity.
10 utworów zarejestrowanych w roku 2015 uzupełnionych zostało 3 kompozycjami nagranymi w roku 1995, a współcześnie poddanymi ponownemu masteringowi.  
Album "Nuda" wydany został wydany w 2015 roku w formacie CD/LP/Digital przez Jimmy Jazz Records...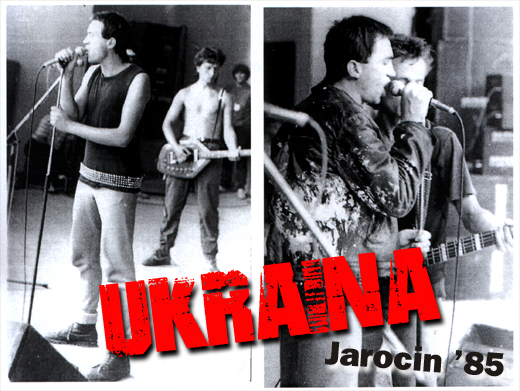 Stagnacja

Mój strach

Ucieczka

Pokolenie

Sens życia

America

Skansen

Majańska heca

Moje oczy

Pan polityk

Jihad

Tempus Transit
Update Required
To play the media you will need to either update your browser to a recent version or update your
Flash plugin
.