Łatwy zwrot towaru
Kupuj i sprawdź spokojnie w domu. W ciągu 14 dni możesz odstąpić od umowy bez podania przyczyny.
Pokaż szczegóły
14 dni na odstąpienie od umowy
Najważniejsza jest Twoja satysfakcja z zakupów. Zamówione u nas produkty możesz zwrócić w ciągu 14 dni bez podania przyczyny.
Bez stresu

i obaw
Dzięki integracji naszego sklepu z tanimi zwrotami Poczty Polskiej kupujesz bez stresu i obaw, że zwrot zakupionego towaru będzie problematyczny.
Prosty kreator

zwrotów
Wszystkie zwroty w naszym sklepie obsługiwane są przez prosty kreator zwrotów, który daje możliwość odesłania do nas paczki zwrotnej.
KUP LUB ODBIERZ W NASZYM SKLEPIE
Możesz sprawdzić czy towar dostępny jest w sklepie od ręki lub zamówić go przez Internet i odebrać w sklepie.
Sprawdź dostępność
REEDYCJA, PREMIERA 25.07.2020
Dowodzone przez Lesława Komety są jednym z najpopularniejszych i najbardziej identyfikowalnych, krajowych zespołów alternatywnych, a zarazem kontynuacją działającej w latach 1994-2003 Partii. Znajduje to odbicie nie tylko w podejściu do artystycznej twórczości ale także składzie grupy ukształtowanym w okresie nagrywania tego albumu, w którym po zmianach personalnych ponownie spotkali się muzycy znani z Partii.
Podobnie jak ich poprzedniczka, Komety stworzyły swój własny styl muzyczno-słowny, będący współczesnym spojrzeniem na początki rock'n'rolla, któremu odpowiedzialny za repertuar lider dodaje blasku dzięki przebojowym kompozycjom, dbałości o nowoczesne brzmienie i specyficzne spojrzeniu na rzeczywistość odbijającą się w tekstach grupy. Zaowocowało to uznaniem Lesława za jednego z najważniejszych songwriterów przełomu wieków przez pismo literackie "Lampa" oraz dwukrotnym zgłoszeniem do paszportów Polityki.
Nie bez powodów także Komety są jednym z nielicznych polskich zespołów, którym udało się zaistnieć zagranicą czego dowodem jest album "Story Of Komety" wydany w Meksyku oraz niezliczona ilość nagrań dostępnych na składankach w najdalszych zakątkach globu od Japonii, USA po Europę...
Choć przez niemal dekadę działalności Komety dorobiły się sześciu albumów to deklaracje Lesława są niezmiennie aktualne, a każda z płyt stanowi odrębną wartość i kolejny krok w pochodzie do serc fanów i krytyków muzycznych.
"Integralnym elementem twórczości Partii i Komet była zawsze obsesyjna fascynacja popkulturą, szczególnie tą z lat 50. i 60., ale z perspektywy warszawskiej ulicy. Jednak największym źródłem inspiracji jest popkultura polska" – ten głos Lesława nadal brzmi głośno, a album Komet zatytułowany "Luminal" jest tego najlepszym dowodem.
Wysiłek jaki muzycy włożyli aby na nowej płycie uzyskać niepowtarzalny efekt brzmieniowy nie poszedł na marne. Sesja nagraniowa do albumu "Luminal" trwała z przerwami 2 lata, a efektem jest 11 premierowych kompozycji, które zespół rejestrował w renomowanych warszawskich studiach: Serakos, LWW i Kontrabanda. Poza Kometami w nagraniu płyty uczestniczyło 13 zaproszonych muzyków, w tym kwartet smyczkowy i sekcja dęta.
Skala przedsięwzięcia od strony realizacyjnej wydaje się nieporównywalna z dotychczasowymi dokonaniami zespołu podobnie jak nieporównywalny jest przełom, który dokonał się w repertuarze grupy. Fani Komet bez problemu rozpoznają na płycie swoich ulubieńców, ale jak zwykle Lesław zadbał o to aby teraźniejszość Komet nie była jedynie lustrzanym odbiciem przeszłości ...
"Obecnie polska piosenka stała się bardzo konserwatywna. Wielu wykonawców ogranicza się do nagrywania kowerów i podąża wyłącznie bezpiecznymi drogami. Wrodzona przekora zachęciła mnie do nagrania płyty odważnej muzycznie, tekstowo i brzmieniowo." – twierdzi lider Komet.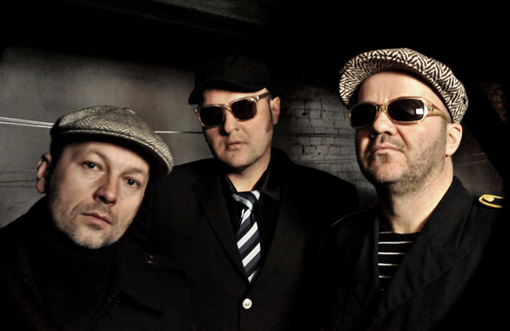 Namiętność kochanków

Niebezpieczny mózg

Mogłem być Tobą

Karolina

Powiedz to teraz

Zazdrość

Inaczej

Osiemnaste urodziny

Taniec

Jutro

Poddaję się
Update Required
To play the media you will need to either update your browser to a recent version or update your
Flash plugin
.