Łatwy zwrot towaru
Kupuj i sprawdź spokojnie w domu. W ciągu 14 dni możesz odstąpić od umowy bez podania przyczyny.
Pokaż szczegóły
14 dni na odstąpienie od umowy
Najważniejsza jest Twoja satysfakcja z zakupów. Zamówione u nas produkty możesz zwrócić w ciągu 14 dni bez podania przyczyny.
Bez stresu

i obaw
Dzięki integracji naszego sklepu z tanimi zwrotami Poczty Polskiej kupujesz bez stresu i obaw, że zwrot zakupionego towaru będzie problematyczny.
Prosty kreator

zwrotów
Wszystkie zwroty w naszym sklepie obsługiwane są przez prosty kreator zwrotów, który daje możliwość odesłania do nas paczki zwrotnej.
KUP LUB ODBIERZ W NASZYM SKLEPIE
Możesz sprawdzić czy towar dostępny jest w sklepie od ręki lub zamówić go przez Internet i odebrać w sklepie.
Sprawdź dostępność
Krążek jednego z najbardziej interesujących polskich zespołów nurtu post-hardcore. Nightclub Fire powstał w 2015 roku stworzony przez muzyków związanych już wcześniej ze sceną za sprawa swoich wcześniejszych projektów.
Praying For Low-Lifes

God

I Have No Body

Green Moon

People Are No Harmless

Inward Empire

3rd Floor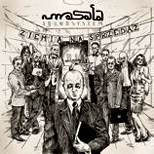 Bezsprzecznie najgłośniejszą premierą z ostatnich propozycji Anteny Krzyku jest wznowienie legendarnej EP-ki DEZERTERA "Ku przyszłości", o której możecie poczytać niżej, a którą osoby z odrobiną życiowego fartu mają możliwość jeszcze zamówić w naszym sklepie. Poza wspomnianym tytułem w ostatnim czasie Antena Krzyku wypuściła także kilka innych interesujących pozycji na winylach i CD.
Zapraszamy do naszego sklepu gdzie poza premierami i wznowieniami albumów takich wykonawców jak MASALA SOUNDSYSTEm, STARZY SINGERS, 19 WIOSEN, NATCHNIONY TRAKTOR, NIGHTCLUB FIRE czy QUEER RESOURCE CENTER znaleźć można nieco uzupełnień, które w ostatnim okresie znikły z naszego sklepu.
Wśród tytułów, które powróciły do sklepu polecamy m.in. wydawnictwa HAŃBY, PERU, BUZZ RODEO, PSYCHOCUKIER, ALLES, KINSKY, STUBS, INPALUMBIA, CALM THE FIRE i innych...
Update Required
To play the media you will need to either update your browser to a recent version or update your
Flash plugin
.