Łatwy zwrot towaru
Kupuj i sprawdź spokojnie w domu. W ciągu 14 dni możesz odstąpić od umowy bez podania przyczyny.
Pokaż szczegóły
14 dni na odstąpienie od umowy
Najważniejsza jest Twoja satysfakcja z zakupów. Zamówione u nas produkty możesz zwrócić w ciągu 14 dni bez podania przyczyny.
Bez stresu

i obaw
Dzięki integracji naszego sklepu z tanimi zwrotami Poczty Polskiej kupujesz bez stresu i obaw, że zwrot zakupionego towaru będzie problematyczny.
Prosty kreator

zwrotów
Wszystkie zwroty w naszym sklepie obsługiwane są przez prosty kreator zwrotów, który daje możliwość odesłania do nas paczki zwrotnej.
Безнадёга (Hopelessness/ Beznadzieja)

Дзецюкі-пізьдзюкі (Lads-shitheads/ Kolesie-zjeby)

Белый флаг (White flag/ Biała flaga) feat. Шнур [Fuck It All]

Серые будни (Grey reality/ Szara codzienność)

Сука-жизнь feat. Sucker (Oxymoron cover)

...never sleep

До самого конца (Till the end/ Do samego końca)

Старые обиды (Old grievances/ Stare krzywdy)

Преданность, отвага и честь (Loyalty, bravery and honour/ Wierność, odwaga i honor)

Не нужна мне твоя помощь (I don't want Your help/ Nie chcę twojej pomocy)

Родное Гетто (Ничего Хорошего cover)

Usefool feat. Dani [Soul Radics]

BONUS LP - Nie chcę twojej pomocy (PL)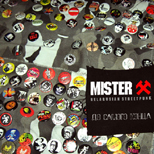 Białoruska grupa Mister X od wielu lat doskonale radzi sobie nie tylko na rodzimej scenie ale także z powodzeniem podbija polską scenę punk. Kolejne wydawnictwa Mister X wydawane zarówno na CD jak i na winylu dostępne są równolegle na Białorusi, w Rosji i w Polsce gdzie zespół ma spore grono fanów. W Polsce od dana związany jest z oficyną No Pasaran Records, która także tym razem wydała najnowszy album Mister X na winylu. Repertuar kapeli niezmiennie oscyluje wokół klimatów streetpunk z drobnymi odskokami w innych kierunkach, niezmiennie też zespół sięga po covery i nagrywa utwory z polskimi tekstami śpiewanymi przez posiadającego polskie korzenie wokalistę Igora. Także na najnowszym albumie zatytułowanym "До самого конца" (Do samego końca) pośród autorskich kompozycji grupy można znaleźć kilka coverów oraz polskojęzyczny...
Update Required
To play the media you will need to either update your browser to a recent version or update your
Flash plugin
.