Łatwy zwrot towaru
Kupuj i sprawdź spokojnie w domu. W ciągu 14 dni możesz odstąpić od umowy bez podania przyczyny.
Pokaż szczegóły
14 dni na odstąpienie od umowy
Najważniejsza jest Twoja satysfakcja z zakupów. Zamówione u nas produkty możesz zwrócić w ciągu 14 dni bez podania przyczyny.
Bez stresu

i obaw
Dzięki integracji naszego sklepu z tanimi zwrotami Poczty Polskiej kupujesz bez stresu i obaw, że zwrot zakupionego towaru będzie problematyczny.
Prosty kreator

zwrotów
Wszystkie zwroty w naszym sklepie obsługiwane są przez prosty kreator zwrotów, który daje możliwość odesłania do nas paczki zwrotnej.
Rok 1982, czasy generalnie nieciekawe i smutne. Małe światełko w czerwonym tunelu to muzyka tworzona przez zbuntowaną i nieposłuszną młodzież. Nie tylko tą z dużych miast, ale też z tych mniejszych. W takim właśnie małym miasteczku, obok dużych Gliwic, powstał zespół Processs. Po typowych w tamtych czasach problemach z miejscem prób, sprzętem i myślącymi tylko jednostronnie kierownikami instytucji kulturalnych, zespół znajduje przyjazne miejsce w jednej z piwnic starej… winiarni. Pierwsze dźwięki to mieszanka awangardowego rocka, punka, nowej fali a nawet reggae! Z czasem chłopcy nabierają coraz większych umiejętności i zaczyna się kształtować specyficzny styl będący mieszanką punk rocka i nowej fali z mocnymi, często trudnymi tekstami.

"Processs to była jedna z oryginalniejszych grup na mapie polskiego punk rocka lat 80-tych. Potrafili świetnie połączyć żywiołowego punka z nowo-falowymi i post-punkowymi klimatami…."

Tak pisali o zespole dziennikarze. Zaczynają być zapraszani na najważniejsze ówczesne festiwale m.in. Jarocin '85, Róbrege '85. Grupa rejestruje w Studio Waltera Chełstowskiego pierwsze utwory, wydane później na legendarnych składankach "Jak punk to punk" i "Radio nieprzemakalnych". Pojawia się w słynnym filmie BBC "My blood, your blood" i zrealizuje pierwszy polski undergroundowy teledysk dla TVP 2 do utworu "Stroszek"! Dużo koncertów w całym kraju ugruntowuje ich pozycje na mapie polskiej muzyki niezależnej. Ten właśnie okres ukazuje CD1

CD2 to już prawdziwy powrót po latach! Stary skład, muzyka prawie bez zmian, choć z pewnym dystansem. 13 zupełnie nowych kawałków + kilka starych utworów, które nigdy nie doczekały się realizacji w studio nagraniowym, a ponadto z pewnych względów nie zawsze mogły być wykonywane na koncertach. CD 2 zarejestrowano w studio KOM Music Production. Album promują dwa teledyski "Gilotyna" i "Processs-ska".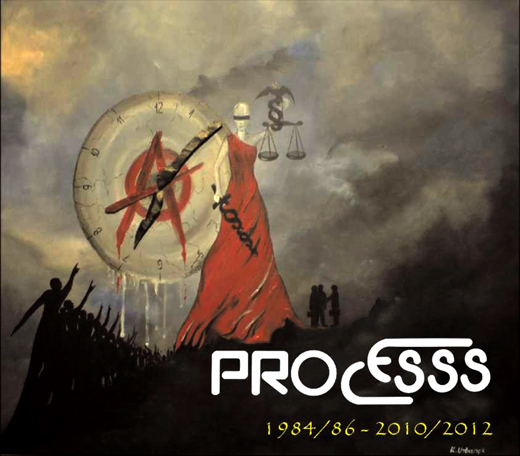 CD 1 - Kolejny krok cywilizacji (CCS)

CD 1 - Nadzieja to znów strach (CCS)j

CD 1 - Bagno (CCS)

CD 1 - Ekshumacja (CCS)

CD 1 - W równy szereg (CCS)

CD 1 - Stroszek (CCS)

CD 1 - Jestem dziurą w moście (Róbrege '85)

CD 1 - Pomylona głowa (Róbrege '85)

CD 1 - Widły i do gnoju (Róbrege '85)

CD 1 - W równy szereg (Róbrege '85)

CD 1 - Wszystko to dla jutra (Róbrege '85)

CD 1 - Tępe zwierzę (Róbrege '85)

CD 1 - Gilotyna (Próba '86)

CD 1 - Nasza anarchia (Próba '86)

CD 2 - Człowiek a maszyna

CD 2 - Twardy bruk

CD 2 - Sarmaci i kraj

CD 2 - Dostojni

CD 2 - Bez wątpienia

CD 2 - Bimber

CD 2 - O starej muzie

CD 2 - O każdym piosenka

CD 2 - Przygnębienie

CD 2 - Potop II

CD 2 - O przyszłość walczymy…

CD 2 - Pesymistyczna piosenka

CD 2 - Processs-ska

CD 2 - Jestem dziurą w moście

CD 2 - Gilotyna

CD 2 - Widły i do gnoju

CD 2 - Tępe zwierzę
Update Required
To play the media you will need to either update your browser to a recent version or update your
Flash plugin
.