Łatwy zwrot towaru
Kupuj i sprawdź spokojnie w domu. W ciągu 14 dni możesz odstąpić od umowy bez podania przyczyny.
Pokaż szczegóły
14 dni na odstąpienie od umowy
Najważniejsza jest Twoja satysfakcja z zakupów. Zamówione u nas produkty możesz zwrócić w ciągu 14 dni bez podania przyczyny.
Bez stresu

i obaw
Dzięki integracji naszego sklepu z tanimi zwrotami Poczty Polskiej kupujesz bez stresu i obaw, że zwrot zakupionego towaru będzie problematyczny.
Prosty kreator

zwrotów
Wszystkie zwroty w naszym sklepie obsługiwane są przez prosty kreator zwrotów, który daje możliwość odesłania do nas paczki zwrotnej.
KUP LUB ODBIERZ W NASZYM SKLEPIE
Możesz sprawdzić czy towar dostępny jest w sklepie od ręki lub zamówić go przez Internet i odebrać w sklepie.
Sprawdź dostępność
Zestaw 35 szt. koszulek z nadrukiem w 1 kolorze.
Szczegóły nadruku:
* kolor koszulki dowolny (dostepne kolory poniżej)
* kolor nadruku dowolny
* projekt dostarcza zleceniodawca w formacie *cdr, eps, pdf
* wilekośc nadruku max. A4 (195 mm x 275 mm)
* orientacyjny czas realizacji ok 7 dni roboczych
Druk na  koszulkach B&C, Gildan lub Fruit Of The Loom

Opis koszulki:
- taśma wzdłuż karku koszulki
- podwójny szew przy rękawach
- wokół wykroju szyi i wzdłuż brzegu
- materiał niekurczliwy
- koszulka bez szwów bocznych.

Materiał:
- 100% bawełna , temp. prania 40C. W kolorze Szarym (melanż) - 97% bawełny, 3% poliestru

Gramatura: 185 g.


Kolory:
-biały, granatowy, czarny, czerwony, pomarańczowy, ciemnoniebieski, szary (melanż) , żółty.
Rozmiary:
S, M, L, XL, XXL, XXXL (rozmiarówka).
Koszt wysyłki został wliczony w cenę pakietu.
Projekt:
 * Jeżeli nie posiadacie Państwo swojego projektu z przyjemnością je wykonamy. Koszt pracy naszego działu graficznego to 50 zł / h. Ostateczna cena za wykonanie projektu uzgadniana indywidualnie.
*Wycena, wszelkie pytania prosimy kierować na mail: joanna@jimmyjazz.pl
lub kontakt tel.:  91 433 80 82 lub 695 165 071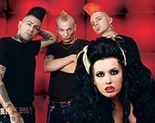 Firma Epitaph wypuściła w ostatnim czasie sporą porcję nowych wydawnictw i chociaż coraz częściej w repertuarze tej wytwórni dochodzi do sporych odchyleń stylistycznych (hip-hop, noise, pop) niezbyt kojarzących się z jej sztandarowym, znanym od lat profilem to nadal wsród kolejnych premier znajdujemy sporo ciekawych płyty utrzymanych w stylistyce punk, ska i psycho.