Łatwy zwrot towaru
Kupuj i sprawdź spokojnie w domu. W ciągu 14 dni możesz odstąpić od umowy bez podania przyczyny.
Pokaż szczegóły
14 dni na odstąpienie od umowy
Najważniejsza jest Twoja satysfakcja z zakupów. Zamówione u nas produkty możesz zwrócić w ciągu 14 dni bez podania przyczyny.
Bez stresu

i obaw
Dzięki integracji naszego sklepu z tanimi zwrotami Poczty Polskiej kupujesz bez stresu i obaw, że zwrot zakupionego towaru będzie problematyczny.
Prosty kreator

zwrotów
Wszystkie zwroty w naszym sklepie obsługiwane są przez prosty kreator zwrotów, który daje możliwość odesłania do nas paczki zwrotnej.
Jimmy Jazz Records od lat zjamujesię nie tylko wydawniem płyt ale również działaniami związanymi z promocją zespołów. Do jednego z elementów promocji nalezy produkcja koszulek z nadrukiem. Większośc zespołów związanych z Jimmy Jazz jak i zespoły związane z innymi  wytwórniami są naszymi Klientami dla których regularnie wykonujemy nadruki. Realizujemy również zamówienia dla dużych firm nie związanych z branżą rozrywkową. Specjalizujemy się w sitodruku jak i nadruku transferowym. Od wielu lat współpracujemy z największymi dystrybutorami odzieży reklamowej w Polsce, dzięki czemu mamy bardzo atrakcyjne ceny na odzież. Pracujemy głównie na odzieży firmy: Fruit Of The Loom, Stedman, Hanes (USA), B&C

Wykonujemy:


zamówienia już od 30 szt.do kilku tysięcy
ilość kolorów nadruku od 1 do 12
w jednym zamówieniu ( jeden rodzaj nadruku) możesz wykonac nadruki na bluzach, koszulkach, polówkach etc.
zmiana koloru nadruku w jednym zamówieniu
nadruk transferowy
sitodruk
nadruki farbami metalicznymi, brokatowymi, efekt zamszu
wielkość nadruku do A3 (możliwy też nadruk w większym formacie)
szybkie terminy realizacji
projekty nadruków
przygotowanie do druku

Do wspólpracy zapraszamy zespoły muzyczne, organizacje, firmy jak i ekipy znajomych.
Zapytaj o szczegóły. Bez żadnych zobowiązań przygotujemy dla Ciebie kalkulację. Do każdego zapytania podchodzimy indywidualnie, dlatego nie pokazujemy kalkulacji. Na ostateczną wycenę składa się zbyt wiele czynników.

W naszym sklepie w dziele z ciuchami prezentujemy nasze prace, wykonane na sprzedaż na sklepie Jimmy Jazz Records

W sklepie dostępne są również gotowe pakiety w róznych opcjach ilościowych i cenowych. Zapraszamy do zapoznania sie z dostępnymi gotowymi pakietami

Pisz  na mail: joanna@jimmyjazz.pl lub dzwoń: 91 433 80 282, 695 165 071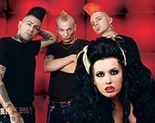 Firma Epitaph wypuściła w ostatnim czasie sporą porcję nowych wydawnictw i chociaż coraz częściej w repertuarze tej wytwórni dochodzi do sporych odchyleń stylistycznych (hip-hop, noise, pop) niezbyt kojarzących się z jej sztandarowym, znanym od lat profilem to nadal wsród kolejnych premier znajdujemy sporo ciekawych płyty utrzymanych w stylistyce punk, ska i psycho.