Łatwy zwrot towaru
Kupuj i sprawdź spokojnie w domu. W ciągu 14 dni możesz odstąpić od umowy bez podania przyczyny.
Pokaż szczegóły
14 dni na odstąpienie od umowy
Najważniejsza jest Twoja satysfakcja z zakupów. Zamówione u nas produkty możesz zwrócić w ciągu 14 dni bez podania przyczyny.
Bez stresu

i obaw
Dzięki integracji naszego sklepu z tanimi zwrotami Poczty Polskiej kupujesz bez stresu i obaw, że zwrot zakupionego towaru będzie problematyczny.
Prosty kreator

zwrotów
Wszystkie zwroty w naszym sklepie obsługiwane są przez prosty kreator zwrotów, który daje możliwość odesłania do nas paczki zwrotnej.
KUP LUB ODBIERZ W NASZYM SKLEPIE
Możesz sprawdzić czy towar dostępny jest w sklepie od ręki lub zamówić go przez Internet i odebrać w sklepie.
Sprawdź dostępność
W 2011 Kolaboranci obchodzili 25 lat swojej działalności scenicznej. Z tej okazji wytwórnia Jimmy Jazz Records wydała koncertowy album "My tu stoimy", a zespół wystąpił na jubileuszowym koncercie pn. "Kolabonight". Oba wydarzenia okazały się sukcesem na tyle istotnym, że historia musi mieć ciąg dalszy. Muzycy weszli do studia, gdzie powstał nowy materiał. Premiera albumu zatytułowanego "Transparenty" zaplanowana została na 15 września 2012 roku..

"Transparenty" to intrygująca dawka charakterystycznych tekstów Przemysława Thiele, gdzie obserwacja łączy się z ironią, a refleksja z szyderstwem, połączonych z nowoczesnym gitarowym graniem. Bez problemu zatem odnajdujemy na nowym albumie ducha "starych" Kolaborantów znanych z zabawy słowem i dźwiękami. Ich muzyki nie daje się łatwo zaszufladkować? Taka też jest nowa płyta i nie ma najmniejszych wątpliwości, że bez trudu dorównuje najlepszym osiągnięciom zespołu.

"Transparenty" to przede wszystkim nowa płyta nagrana z nowymi muzykami i w całkiem innych realiach niż piosenki, z którymi Kolaboranci odnosili największe sukcesy. Ale właśnie to zdaje się być największą siłą nowej płyty czego dowodzi kilka ewidentnych hitów zawartych na krążku.
Sam Thiele mówi: - Nowe utwory powstawały dość szybko, pracowało się dobrze bo to dobry skład, a i ja sam sypnąłem w końcu tekstami. Pogrzebałem też w archiwach i wydłubałem kilka pomysłów niepublikowanych sprzed lat, które uznałem za godne uwagi. Zaaranżowaliśmy te numery na nowo i tak narodziły się: "Sen o Sz.", "Nie mów mi, że będzie inaczej", "Kukieł" i "My nie będziemy świecić oczami przed Mietkiem za bandę idiotów". Odnalazłem też dwa pomysły Jacka Chrzanowskiego sprzed prawie 20 lat, z którymi nigdy nic nie zrobiliśmy. Ponieważ powstały gdzieś w okolicach płyty "Ciało i drewno" błyskotliwie nawiązywały do dobrego czasu w historii zespołu. Z nich wyłoniły się ostatecznie: "Zabraniam" i "Dajcie mi wasze głosy.

Do nowej płyty Kolaborantów powstały dwa teledyski. "Jedni i drudzy (ja się chce obudzić)" nakręcony do pierwszego singla jest już dostępny w sieci. Kolejnym będzie "Końców świata już kilka było", a jego premiera odbędzie się już po premierze płytowej.




Może jeszcze

Kukieł

Jedni i drudzy (Ja się chcę obudzić)

Kraj

Końców świata już kilka było

Słabizna

Zabraniam

Nie mów mi, że będzie inaczej

Sen o Sz.

Fetor

My nie będziemy świecić oczami przed Mietkiem za bandę idiotów

Dajcie mi wasze głosy

Słowo

Strażnicy moralności cz. 3

Kłam, kłam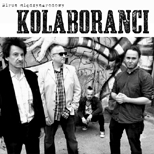 W połowie 2016 roku Kolaboranci weszli do studia aby zarejestrować swój najnowszy materiał. Premiera płyty o tytule "Wirus międzynarodowy" będzie miała miejsce 15 października 2016, niemal 4 lata po pojawianiu się ostatniego albumu.
"Wirus międzynarodowy" to 12 nowych kompozycji zasłużonego bandu i namacalny dowód jego ciągłej aktywności oraz twórczej konsekwencji. Jak zwykle Kolaboranci proponują fanom nieszablonowe teksty lidera zespołu Przemysław Thiele wsparte potencjałem doskonałych muzyków, którzy w swoich poczynaniach już dawno przekroczyli granicę prostego punk rocka, z którym Kolaboranci niegdyś byli utożsamiani.
Ostatnie albumy Kolaborantów to muzyczna podróż do świata w którym punk rock stanowi jedynie daleki punkt wyjścia a finał wypada w miejscu gdzie hardcore, post punk i alternatywny rock łączą się we wspólnym nurcie....
Update Required
To play the media you will need to either update your browser to a recent version or update your
Flash plugin
.